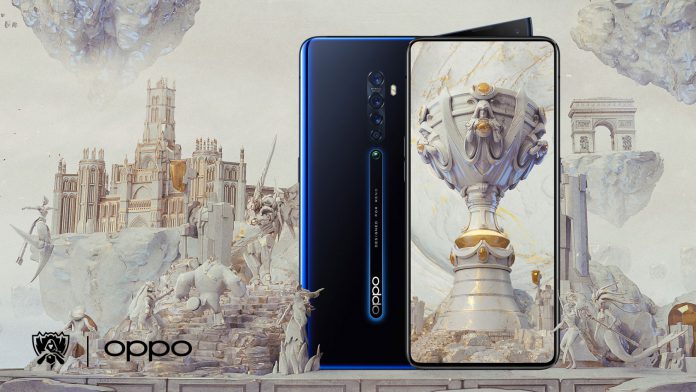 Mobile phone brand OPPO has extended its sponsorship portfolio to esports, becoming an official partner of League of Legends.
As the exclusive global smartphone partner for League of Legends esports through 2024, OPPO will have year-round activations centred around the sport's three annual global tournaments: the Mid-Season Invitational, the All-Star Event, and the World Championship. Starting with the 2019 World Championship.
As part of the collaboration, OPPO is aiming to enhance the connection between fans and players, with sponsorship of the matchday MVP Award, the enhanced OPPO cam and a whole host of features that enhance the viewership of the game for supporters.
Brian Shen, OPPO Vice President and President of Global Marketing commented: "Esports is a fast-growing sport globally, and League of Legends has become a lifestyle of many young people in recent years. As a consumer-centered brand, OPPO always seeks the right way to communicate with young people, our target audience. This is a great move for Riot and OPPO; the partnership will allow us to continue to strengthen our bond with the young as we join them in celebrating the victory of each game."
League of Legends joins OPPO's roster of premier sport partners which includes Wimbledon, FC Barcelona, and the International Cricket Council, among others. This partnership puts OPPO at the center of the burgeoning global esports market, as they join League of Legends Esports best-in-class partners like Mastercard, State Farm, Alienware, Secretlab, and Louis Vuitton.
During an interview with InsiderSport, the firm's global marketing director, Derek Sun underlined how OPPO's 5G capabilities can help elevate the sporting experience for the fans.
"OPPO's 5G capabilities enable fans to immerse into and enjoy games: via the Reno 5G handset will help redefine the way fans consume sport, both at live sports events and at watching home. With improved connectivity, fans' ability to stream, engage and create content surrounding sport events, such as football matches at FCB will be vastly improved.
"OPPO's outstanding image capture capabilities helps fans to record brilliant battles: give consumers the opportunity to use create their own narrative through the art of film and photography, allowing them the excitement of looking forward to capturing the perfect shot and creating an unforgettable experience."
Naz Aletaha, Head of Global Esports Business Development and Partnerships for Riot Games also praised the deal between League of Legends and OPPO: "OPPO's commitment to design and innovation are cornerstones in everything they do, and we are thrilled to have them bring their pioneering spirit to our global sport and fanbase. To be OPPO's first esports league partner is a powerful testament to the resonance of League of Legends esports, and we look forward to collaborating together to celebrate the sport, our fans, and the love of the game."