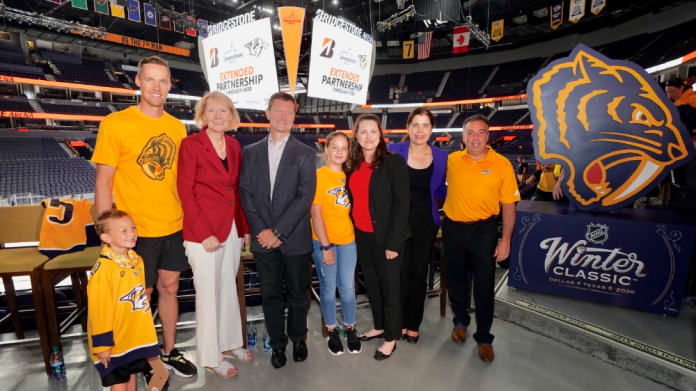 Bridgestone Americas has extended its naming rights deal with the Nashville Predators for the Bridgestone Arena through to 2030.
The agreement extends the deal by five more years, with it first that commenced in March 2010 between the tire and rubber company and downtown Nashville's sports and entertainment venue.
Gordon Knapp, CEO and president, Bridgestone Americas praised the partnership: "Our partnership with Nashville Predators and our association with this world-class arena continue to be great sources of pride and positive exposure for the Bridgestone brand. Extending our relationship for the next eleven years represents the longest sports partnership commitment in our company's history, which is a reflection of our belief in the Middle Tennessee community and the incredible vision of our hometown hockey franchise."
The announcement comes less than two years after the deal's previous extension, which was confirmed in December 2017 to carry the successful partnership through 2025. Bridgestone revealed that previous extension in conjunction with the grand opening of Bridgestone Tower, its new Americas headquarters.
Sean Henry, President and CEO of the Nashville Predators added on the deal: "Bridgestone Americas has been a driving force behind the Nashville Predators and Bridgestone Arena from the moment they helped save and stabilise the team for all of Smashville over 10 years ago. They believed in our city and the impact a thriving team could have upon it, and by aligning their brand with ours gave us a foundation from which we could successfully build.
"Our year over year growth on virtually every front and our current upward trajectory we enjoy is directly linked to their renewed faith in what we can achieve together. It is no coincidence that our alignment with Bridgestone has driven us to become one of the busiest venues in North America centered around a perennial Stanley Cup contending Nashville Predators team. With downtown Nashville being each of our forever homes, it is natural for our partnership to continue that long as well."