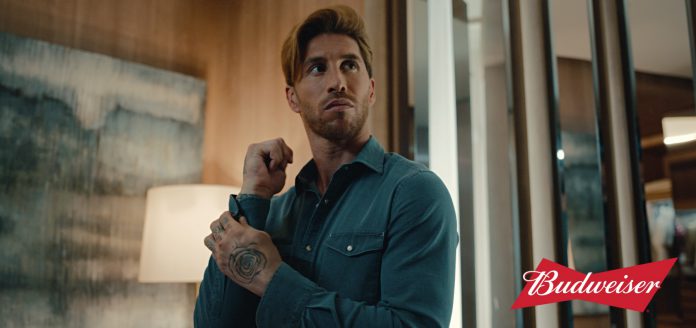 Budweiser has announced a new partnership with World Cup winner and Spain captain Sergio Ramos as the beer brand prepares to launch a limited edition tattoo-centred "Be A King" campaign.
The campaign, which celebrates Ramos' illustrious footballing career, has been announced ahead of the Spaniards latest milestone in which he will become his country's most capped player ever.
Ramos, who announced the deal on his Instagram account, commented on the deal: "I'm very excited to partner with Budweiser, a leading global brand who shares my passion and commitment for the sport of football. I look forward to sharing my story in a unique way with my fans around the world to inspire them to see that greatness is within all of us, you just need the confidence to step up."
The partnership will see Budweisier produce limited-edition bottles emblazoned with exact replicas of Ramos' most iconic tattoos.
The limited-edition bottles will be made available in several countries and will allow fans to access exclusive content in the form of Ramos explaining the meaning of the tattoos.
Steve Arkley, Budweiser Global VP, added: "Budweiser is proud to celebrate the journey of Sergio Ramos as a king of global football and one of the greatest players of his generation. We're excited to spotlight his story in such a unique way for football fans worldwide and our ambition is to inspire consumers to step up and taste greatness."
The deal is the latest in a long line of deals for the American lager company after they recently signed deals with Juventus, La Liga and the Premier League as well as the American National Women's Soccer League.
Ramos, who is currently joint top of the all-time Spanish appearances chart with Iker Casillas on 167, is expected to receive his 168th national team cap on Saturday when Spain take on Norway in a qualification match for Euro 2020.