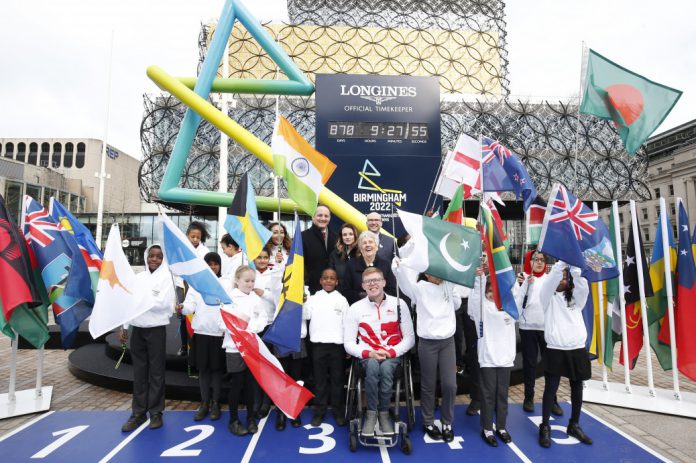 The Commonwealth Games Federation (CGF) and watch company Longines has furthered its relationship by entering a partnership agreement for the next three Commonwealth Games.

The agreement, which officially began when Birmingham 2022 unveiled the Longines Countdown Clock in Centenary Square, is the first-ever multi-Commonwealth Games partnership.

CGF CEO David Grevemberg CBE stated: "I am absolutely delighted and privileged to have Longines join with us as the Inaugural Partner of the Commonwealth Sport Movement. It marks an exciting new chapter in the longstanding friendship we have had with Longines that dates back to the Perth 1962 Commonwealth Games.
"This is a truly historic agreement and having this multi-Commonwealth Games partnership in place showcases real confidence in the future direction of the Commonwealth Sport Movement."
Longines will be announced as the Commonwealth Games' "Inaugural Partner of the Commonwealth Sport Movement", as well as continuing to hold its titles as official partner and timekeeper for Birmingham 2022 along with the upcoming two Games in 2026 and 2030.

Every Commonwealth Games event sponsored by the watchmaker will also be provided with all the necessary timing and scoring equipment for every event.

Longines Vice President Marketing, Matthieu Baumgartner added: "With 870 days to go until the start of this great event, our brand is delighted to reveal a historic multi-Commonwealth Games partnership with CGF, covering the 2022, 2026 and 2030 editions.
"Timing is crucial when it comes to winning a gold, silver or bronze medal. In this regard, Longines is looking forward to providing its timekeeping expertise in various disciplines, including Athletics (Track & Field), Gymnastics, Rugby Sevens and Table Tennis, the sports we are partnering with during the Commonwealth Games."
Finally, Longines will be named as a presenting partner of rugby sevens, table tennis, gymnastics and athletics.

The Longines Countdown Clock is shaped to mirror the 'Iconic B logo of the Birmingham 2022 Games and featuring a working clock. The attraction also has a fully accessible ramped approach to allow both wheelchair users and non-wheelchair users.

Cllr Ian Ward, Leader of Birmingham City Council, concluded: "The Countdown Clock is an exciting contemporary addition to our diverse range of public art in the city.
"Set in the recently revamped Centenary Square and in front of the world-renowned Library of Birmingham, it creates a fantastic Games-related city centre destination for citizens and visitors in the years to come as the excitement builds for everything we do as a council and with our partners on the road to Birmingham 2022."