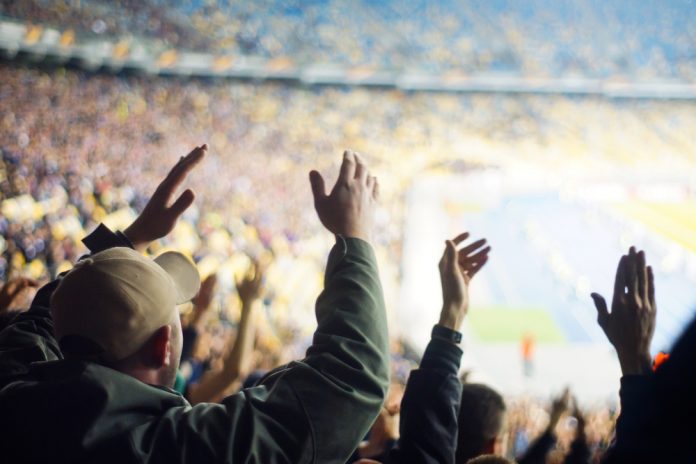 Plans to reintroduce crowds to live sporting events and stadiums have been put 'on pause' after the government revealed new restrictions following a recent surge in coronavirus cases across the UK.
Speaking on BBC Breakfast this morning, Michael Gove – Chancellor of the Duchy of Lancaster and Minister for the Cabinet – confirmed that plans to permit crowds from 1 October had been axed for the foreseeable future.
Among the new measures, pilot schemes have also been postponed – which would have returned live sport fans to stadiums through the winter, which football clubs and racing had hoped to trial across venues.
He told BBC Breakfast: "We've been piloting some open air venues and we do want to be able in due course to allow people to return to watch football and other sporting events.
"We need to be cautious at the moment and I think a mass reopening at this stage wouldn't be appropriate."
Gove also reiterated that the government will be analysing the impact of fans being absent for several months after growing concerns that a lack of crowds could result in serious financial repercussions for the sports, hospitality and events sectors.
When asked directly whether fans could return to stadiums, he bluntly replied 'no', adding: "We were looking at a staged programme of more people returning – we weren't going to have stadiums thronged with fans.
"We're looking at how we can pause that programme but we want to make sure that when circumstances allow, we get more people back. The virus is less likely to spread outdoors than indoors but again it's in the nature of major sporting events that there's a lot of mingling."
Gove also referenced larger sporting events which took place prior to lockdown, although did not suggest that Atletico Madrid's visit to Anfield or the Cheltenham Festival influenced the government's decision at all.
He added: "People look back at the beginning of the pandemic and look at some of the major sporting events and ask the question 'why were they allowed to go ahead?'.
"We must look at sporting events now with caution but we also recognise that sport is a vital part of the life of this nation and we're looking at everything that we can do in order to support our athletes and our great clubs through what will be a challenging time."
Last night, a number of leaders from the sports industry wrote to the Prime Minister urging that he considers emergency funding for the sector – stating that the impact of Covid-19 could 'lead to a lost generation of sport and activity'.
The letter said: "We require a comprehensive support package for the sport and physical sector to aid its recovery. This package must combine investment, tax incentives, and regulatory reform.
"Covid-19 has undermined our commercial revenue streams with both stadiums and leisure facilities closed or greatly reduced in capacity."