The Indian Premier League (IPL) is intrinsically linked to the entertainment industry, with a handful of movie actors taking on ambassador roles and starting to invest in cricket teams. 
As media companies and clubs begin placing an increased emphasis on the role of influencer marketing in promoting sports betting, the most engaging and impactful strategy is still undiscovered. 
Speaking on the panel titled Marketing and Advertising, Vishesh Bhandari, Chief Executive Officer of Stock Market Fair, cited statistics that show 65% of India's population are below the age of 35, and many young people consider such influencers, whether they be sports or film stars, to be 'Gods'.
Most notably, Shah Rukh Khan, who is often referred to as the 'King of Bollywood', currently co-owns the Kolkata Knight Riders of the IPL and the Caribbean Premier League side Trinbago Knight Riders.
Bhandari explained: "Influencer marketing is one of the fastest growing industries in India. Nowadays, it is a priority of every advertiser, and it has grown to about 300% this year. Around 65% of advertisers are using influencer marketing as a strategy of user acquisition. In India, influencer marketing helps brands have better engagement. It also reduces the cost of user acquisition."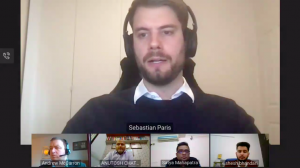 Parimatch, a firm that teamed up with MMA icon Conor McGregor in 2019, also places a strong emphasis on influencers. Japneet Sethi, India Marketing Lead at Parimatch, touched upon the 'penetration of social media' and how such individuals should attempt to educate their audiences, as opposed to altering perceptions of sports betting altogether.
"When we talk about influencers as an approach, as a medium, that approach has to be very careful, especially when you're talking about the braking segment," Sethi outlined. "We know from our past experiences and in different markets, no influencer, if you look at global or our local markets, would want to barricade themselves with a betting graph.
"Especially when you talk about cricket as a game, the factor of being responsible here is the history of the sport that you feed. Education here is very important, rather than changing the perception, because when you educate people with the right set of factors, the right set of key words and the right set of communication, that is how you change the perception. So rather than using influencers to just change the perception of what is seen as a taboo, you should focus on communication which educates the audience. Change should come from the people who you look up to, which are the influences."
This sentiment was echoed by Sebastian Paris, Chief Operating Officer of Bwise Media, who concurred that responsible messaging must be at the forefront when enlisting the help of influencers.
"I think the number one target should be to simply protect the youth," he said. "If you look at cricket coverage, and particularly the IPL in 2020, there was so much advertisement around, not just fantasy but also the grey area in gaming so the restrictions are basically the guidelines that have been put in place now afterwards. They were caused by some tragic events, such as certain suicides that happened in the aftermath that were related back to gambling issues.
"I think it's super important to simply protect the youth to protect vulnerable players. Having really clear guidelines on what is communicated and how it is communicated, and who we are targeting with our advertisement is incremental in making sure that this beautiful industry keeps its very good reputation that we focus on entertainment rather than just a money making machine."
He went on to discuss the evolving nature of the industry, which has been forced to move with the times when the coronavirus pandemic hit the country.
Paris continued: "We believe that the closest you can actually get to certain live events or live sports, the better it is. We work very closely with the biggest sports applications in India, that is primarily, of course, cricket sports applications and those provide very unique and creative ways of engaging with a huge audience.
"COVID has struck the whole sports and sports media market significantly. We've seen all kinds of sports betting operators and sports media companies struggling very much in the middle to end the first outbreak and in the first month. Luckily, in the second half of 2020 we were able to regain a lot of those users back into the sports platforms and on both sides for sports publishers. Everything that has happened in the last year has accelerated digitalisation even further."
SBC Digital India is the premier online event for igaming in India and will deliver a fully virtual and interactive conference, exhibition and networking experience to delegates with an interest in the igaming industry.
Taking place from 27 – 28 January, the event includes a star studded roster of speakers and sessions over two days providing insight across igaming, skill games/DFS, casino and more.
To register for your free ticket, click here