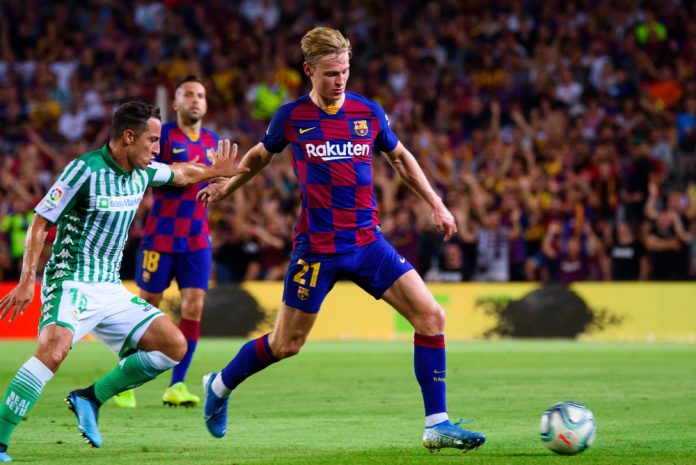 Clubs across the top two tiers of Spanish football have lost out on more than €2 billion in total income during the 2019/20 and 2020/21 seasons, according to an assessment carried out by PricewaterhouseCoopers (PwC).
In its economic impact report, the professional services firm detailed that La Liga clubs saw a total revenue drop of over €2.013 billion since March last year. However, it noted that salary cuts and other measures implemented by the governing body have mitigated losses.
During the 2019/20 season, the revenue of clubs in the top flight and second tier Seguna Division was down €366 million, following the suspension of the La Liga campaign between March and June of 2020. Meanwhile, the lost income for the 2020/21 season amounts to €1.64 billion, with games being staged behind closed doors to prevent the spread of the virus.
Should fans be allowed back into stadiums by the end of the 2020/21 season, PwC estimated losses could total €825 million. However, the sum could surpass the €1 billion mark if the spectator ban remains in place and salaries return to normal as planned, which is highly likely.
In spite of the figures, La Liga President, Javier Tebas, told Spanish news outlet 2playbook that the study 'does not generate concern' and that within a fortnight clubs could be 'in a pre-COVID situation at a financial level'.
Breaking down the areas in which clubs lost significant revenue, PwC identified that matchday revenue has fallen 17% in 2019/20 and 71% in 2020/21. In addition, television income from both La Liga and European tournaments dipped €146 million across the two campaigns.
However, sponsorships saw a five percent growth whilst advertising was dealt a 13% decrease in 2020/21 compared to 2018/19, having had 'little impact' in 2019/20.
In December, UK-based lender Rights and Media Funding Limited agreed to loan €67 million to 11 Spanish clubs across the top two La Liga divisions to offset the financial implications of the pandemic, although second tier clubs were the greatest beneficiaries.