Now more than ever, sports brands have had to get 'creative' amid the pandemic, and many have turned to influencer marketers and brand ambassadors to boost their brand. 
Russell Yershon, Director of Connecting Brands, told Insider Sport why the strategy has taken off within the sports sector, explaining how brands can collaborate with sportsmen and women.
"With no fans in stadia at the minute, brands have to work harder with the rights holders to maximise the rights in their agreement, but you have to be on the front foot, proactive and creative to ensure you keep activating and be front of mind to engage with the team's fan base," Yershon stressed.
Utilising brand ambassadors has emerged as a strategy to drive engagement with sports fans as access to the ambassador by video call during the COVID-19 period has enabled content to be created, which can benefit the brand.
For instance, for sports betting brands, the ambassador can preview and offer opinions on upcoming games which can be shared on social media and also to give the internal workplace a boost, the ambassador can be used for workplace motivation in a positive way.
Looking at brand partnerships with sports clubs and in particular, football clubs, virtual player access days have been a way of allowing the brand access to players.
"Brand ambassadors for sports gaming brands are very popular and in particular for brands in newly regulated territories. They can be extremely valuable to gain credibility and trust with players as well as give an edge against competitors, by having a differentiated offering. 
"Like sponsorship activation, it's all well and good securing a brand ambassador, but it's vitally important to create an activation plan for the ambassador so that the players image is used from the outset to promote the brand positively and then securing regular content from the ambassador is important to maintain the connection so that customers can be engaged and the brand can promote themselves digitally."
Yershon shared that social media is playing a key role to engage with customers, with Twitter and Instagram among other networking platforms, becoming the primary channels for fans to stay in the loop with their favourite brands and teams.
He continued: "Before securing an ambassador it's important to ensure they match the core values of the brand, have a significant following, and are naturally engaging in front of the camera.
"By having a strong social media following across multiple platforms means the brand immediately benefits by being able to engage and reach out to the ambassadors' followers over a period that the agreement lasts for." 
He also highlighted that retired football players are beginning to take on roles as influencers: "In football especially, with TV and radio channels adding more talent to their roster as summarisers and pundits, this means that brands can choose to bring these talents on board as they are relevant, in the limelight and therefore can help them with their objectives. 
"Most top sportsbooks have ambassadors to give regular content across football and horse racing in particular. Examples include Coral with Alan Shearer, BetVictor with Michael Owen, William Hill with Sir AP McCoy, and Paddy Power with Ruby Walsh."
Connecting Brands has worked with the likes of Arsenal legend Ray Parlour, Liverpool star John Barnes and Spanish striker Fernando Morientes, who served as brand ambassador for Marca Apuestas across the 2018/19 season, as well as horse racing jockey Ben Curtis, cricketer Matt Prior and darts legend Phil Taylor.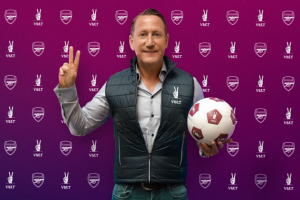 Yershon also emphasised the importance of influencer marketers' awareness of the products and services they are promoting.
"As a brand, the main asset gives you the ability to utilise the talent's image and intellectual property rights, which can immediately help based on the talent's identity and a positive association.
"With social media becoming a very important channel of marketing, securing a brand ambassador who has a significant and engaged following can also be a huge advantage. Ambassador talent can also differentiate your brand in the market place you operate in.
"Brand ambassadors should know the brand, what they stand for, which then will give them full confidence to promote the product and educate the consumers in the target market."
He added: "Responsible gambling must also be high on the agenda when partnering with an ambassador as they can share messaging on the topic of ensuring people they're reaching out to gamble responsibly and working with the brands to ensure that they promote tools they are offering to ensure responsible gambling protocols are met." 
With the 2005 Gambling Act review ongoing and Prime Minister Boris Johnson 'likely' to back a ban on gambling operators sponsoring football jerseys, Yershon hypothesised that this might lead to more clubs and brands investing in digital marketing strategies instead.
"I agree that the new review should result in reducing restrictions on the current betting landscape in football and it does look as though in the not too distant future there will be a ban on betting sponsors on UK football shirts," he noted. 
"I don't think, however, that this will stop betting brands being able to partner with clubs. So expect betting brands to be able to have LED advertising and deliver content with players, but social media access will be reduced to ensure targeting doesn't reach fans who are underage to gamble.
"In other sports, such as horse racing and darts, where betting sponsors account for a huge amount of sponsorship of events, it will be a massive decision, should the new Act be reflective on these sports. Not allowing betting brands to sponsor shirts in the UK will mean more spend will be put digitally."