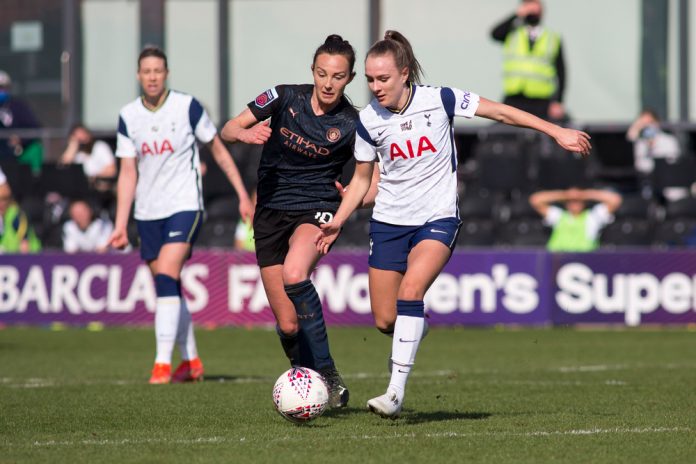 It could take the Women's Super League up to 10 years – the equivalent of two media rights cycles – to become self-sustainable, according to the FA's Kelly Simmons.
Speaking to The Times, Simmons lauded the league's landmark broadcasting agreements with the BBC and Sky Sports, penned in late March.
Yesterday, the Women's Super League opened its Hall of Fame to mark the 10 year anniversary of the division, which was initially formed as an eight-team, semi-professional structure in 2011 before going fully professional in 2018 with 12 clubs now competing in the league
However, Simmons reaffirmed that in another 10 years, the competition may not be as reliant on the men's sport.
"The big change for me will be that the women's game should be able to generate enough revenue in ten years to stand on its own two feet," she told The Times.
"We've seen Barclays, we've seen the multimillion-pound TV rights announcements we made a couple of weeks ago, but it's not yet sustainable. It can't survive without money made through men's football.
"I think over ten years, we'll see that change, revenues will grow and ultimately, we should be looking at a sustainable professional league in its own right and that will be a big shift."
The £24 million deals are set to significantly boost the exposure of the women's professional game a year before the 2022 UEFA Women's European Championship is set to take place in England, whilst it was also confirmed that top flight and second tier clubs in the Championship will receive a chunk of the revenue.
Simmons continued: "I think it is going to take a couple of media rights cycles to do that, when you look at the amount that is distributed from the [centralised deals] to the clubs obviously, they're growing their own revenues. I think two years is probably too big a jump, because the cost base is increasing. The player salaries potentially are going to increase because there's more competition, with the growth of European leagues."
Pre-COVID, the league had enjoyed record attendances, with Arsenal's 2-0 win over London rivals Tottenham in 2019 accommodating a crowd of 38,262, and Simmons also told Sky Sport News that while there is still a way to go in sustainability, the league is 'unrecognisable' from what it once was.