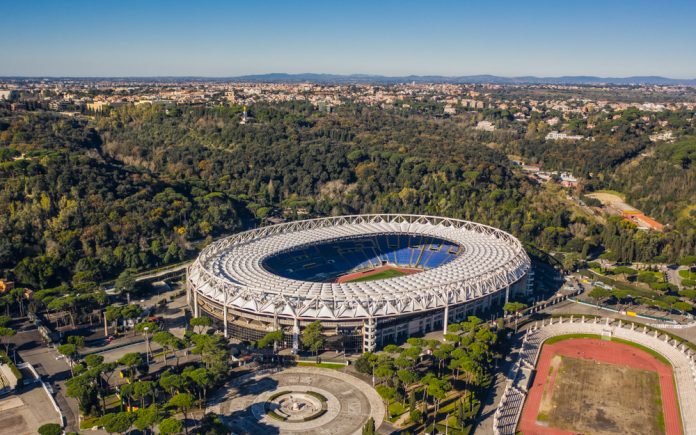 Rome has secured its position as a host city of the upcoming Euro 2020 Championships, having been given clearance by the Italian government for fans to attend.
The city's 72,698-seat Stadio Olimpico – the home to AS Roma and SS Lazio – will operate at 25% capacity as one of the 12 host venues for the tournament.
Gabriele Gravina, President of the Italian Football Federation (FIGC), had previously called on Prime Minister Mario Draghi to intervene in order to assist the capital city in keeping its host city status for the international conteintial tournament.
"The OK from the government to the presence of the public at the matches in Rome for Euro 2020 represents splendid news that we will immediately transmit to Uefa," said Gravina.
The message that the Executive is sending to the country is one of great confidence and extraordinary vision. That Italy has courage, fights against the pandemic and at the same time works to restart safely according to a clear and defined program and calendar.
"I would like to thank Prime Minister Draghi and his government, the Minister of Health (Roberto) Speranza, the City of Rome, with which we collaborate in a synergistic way, but above all Undersecretary Vezzali who immediately expressed her full support for the realisation of this great event and in a few days has shown quality and determination by unlocking such an important dossier."
The Stadio Olimpico will host one quarter-final match, in addition to all of Italy's home group games, including the match against Turkey on 11 June, the opening game of the month-long tournament.
An initial deadline of 19 April had been set by UEFA for prospective host cities to confirm a 25% capacity at their respective stadiums. Prior to the announcement that Rome will allow this capacity, eight cities had confirmed the fan attendance, with Dublin, Bilbao and Munich remaining.
UEFA announced today that it had 'received from the Italian Football Association, confirmation from the Italian government that the UEFA Euro 2020 matches scheduled for the Stadio Olimpico in Rome, will take place with spectators,' also confirming that Italy's leadership had agreed upon a 25% capacity attendance.
The governing body added: "As a result, UEFA considers Rome to be fully confirmed as a venue for the tournament."
The news follows last week's announcement that 25,000 fans will be able to attend England matches at the Wembley Stadium, whilst 45,000 spectators will be able to watch the semi-finals and final at the venue.