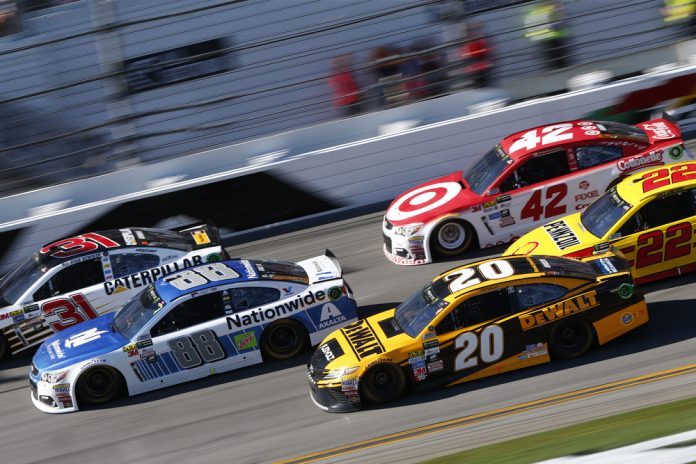 Stock racing car association NASCAR has collaborated with Grabyo to bolster its content capabilities ahead of the GEICO 500 NASCAR Cup Series event at the Talladega Superspeedway.
Utilising Grabyo's solutions to shift its digital video production workflow to a hybrid model,  NASCAR will produce several multimedia content series, including podcasts such as 'Stacking Pennies' and 'Glass Case of Emotion', featuring interviews with drivers and previews of upcoming races.
In addition, video series including 'Backseat Drivers' will be published to the NASCAR.com website.
"We are excited to be using Grabyo to deliver our digital content. Moving our digital and social content production into the cloud has increased productivity and allowed our production teams to be flexible", noted Justin Burrows, Director of Video/Content Strategy at NASCAR.
"Partnering with Grabyo will allow us to deliver multifaceted content directly to our fans, improving engagement across all series and podcasts. We know the video world is into the cloud and we are glad to be part of it."
Ahead of the GEICO 500, the organisation will leverage Grabyo's cloud-based platform to give fans more access to what is dubbed 'one of the biggest races of the year'. The content will be available through the NASCAR.com homepage alongside a dedicated video area of the site. 
Each show will be custom branded with graphics and b-roll footage, alongside a mix of archival content from NASCAR's historical library. The racing series' production teams will also use Grabyo's Studio platform to clip, edit and distribute shoulder video content to multiple social and digital platforms simultaneously.
Mike Kelly, Grabyo President of Americas, added: "Assisting such an innovative company in NASCAR is extremely exciting for us at Grabyo. The organisation has long been at the forefront of developing new content for its fans and with this partnership we hope to assist in pushing it forward even further."