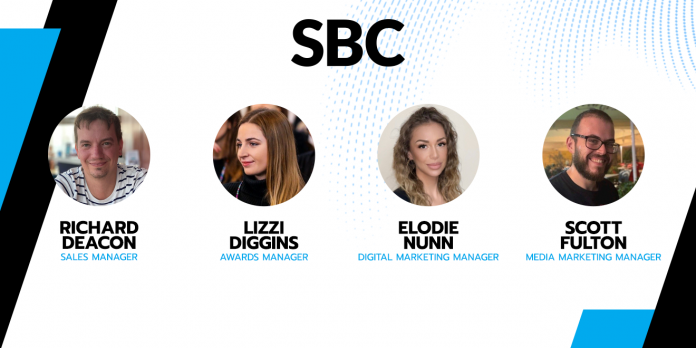 SBC's ongoing recruitment drive has seen the media and events business make four further new appointments, as it continues to invest in strengthening its team to support the company's ambitious growth plans.
With a schedule of five major B2B conferences and exhibitions in the second half of 2021, along with a programme of digital events and a rapidly-growing media division that includes some of the betting and gaming industry's most-read websites, SBC has moved to bring in experienced professionals to augment its sales, events and marketing departments. 
The latest recruits include Richard Deacon, who has joined the company as Sales Manager to work across its full media and events portfolio. He brings with him nine years' experience of B2B events sales, most recently with Nineteen Group, and has worked on a number of high-profile trade shows in multiple industries.
Reflecting the increasing importance of betting and gaming industry awards to the SBC product offer, the events team has been augmented by the arrival of Lizzi Diggins as Awards Manager. 
The ongoing success of the SBC Awards will see it grow to three ceremonies in 2021, taking in events in Europe, Latin America and North America, while the schedule also includes the inaugural Game Developer Awards at CasinoBeats Summit in Malta. Diggins, an experienced event manager who joins the company from M Squared Media, will manage the delivery of this expanded offering. 
SBC has also moved to enhance its marketing team by filling two roles. Elodie Nunn has joined as Digital Marketing Manager to lead the company's data-driven marketing and CRM activities. Nunn arrives from Hertford Media and brings with her an exceptional marketing and technical skillset.
Following the strong growth of the company's media division over the past year, Scott Fulton has been appointed as the dedicated Media Marketing Manager. An experienced gaming industry marketer who recently spent three years with The Logispin Group, Fulton will take on responsibility for the promotion of SBC's network of ten B2B news websites and bi-monthly magazine, along with its webinar series and newly-launched podcasts. 
The four new arrivals follow the recent additions of Bob McFarland as Senior Vice President Sales & Commercial – Americas, Jonathan Whelan as Director of Conference Production, and Paul Bunyard as Conference Production Administrator to the SBC team.
Rasmus Sojmark, Founder and CEO of SBC, said: "Delivering the best possible experiences for our customers requires great staff, so we're continuing to invest heavily in building our team.
"I'm delighted to welcome Richard, Lizzi, Elodie and Scott to the company and am looking forward to seeing them help us to strengthen our relationships with clients and achieve SBC's ambitious plans for 2021 and beyond."
For information about career opportunities with SBC, visit: https://sbcgaming.com/careers/