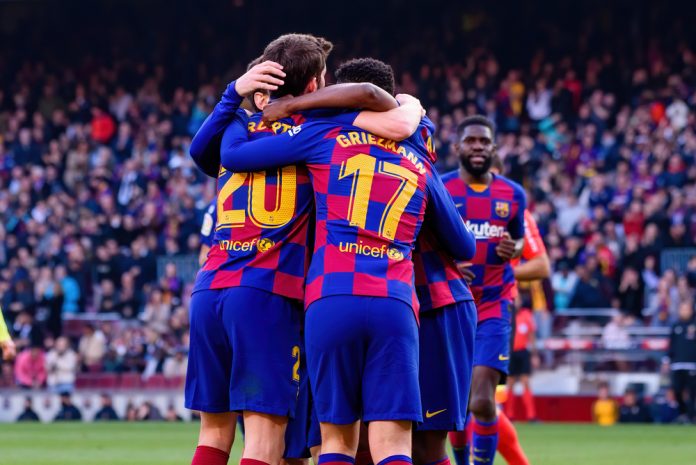 Financial services firm Allianz has expanded its sponsorship arrangement with FC Barcelona, upgrading its deal from a regional to a global partnership for the next three seasons until June 2024, excluding China.
As a result, Barça players will wear the Allianz logo on their shirt sleeve in the preseason fixtures against Stuttgart and Salzburg. The first of these games will come on 31 July in Germany with the second against the current Austrian league champions on 4 August. 
FC Barcelona and Allianz – whose relationship dates back over a decade – will collaborate on activities in line with the club's pillar, such as the Spanish top-flight team's for women's football, social commitments, the search for innovation and commitment to sporting excellence and a unique style of play.
In addition, the agreement will extend to the Barça Women and Barça B with regards to associated image rights. At the same time, FC Barcelona and Allianz will work together via the Foundation, Barça Innovation Hub and the Barça Academy on long-term projects.
Within the social area, Allianz and the Barça Foundation will launch a new project, 'Confidence in Tomorrow & Barça Foundation', within the programme for social inclusion and that will benefit 200 children in vulnerable situations in the Barcelona Metropolitan Area.
Allianz will also be one of the principal partners at the sporting innovation congress, Sports Tomorrow Congress, organised annually by BIHUB, the platform for scientific research, innovation, and dissemination of FC Barcelona knowledge. Barcelona Allianz will launch a competition for start-ups to help support initiatives connected to the promotion of wellbeing and healthy habits.
With regards to Barça Academy, Allianz will be present at the Barça Academy World Cup, the international competition that every year brings together more than 2000 children from the Barça Academies from around the world in order to carry out Clinics and events based around competition.