In an economy which is now heavily influenced by online personalities and content creators, the lines between such influencers and sportspeople are becoming increasingly blurred.
Kahlen Macaulay, Snapchat's Senior Manager of Sports Partnerships, sat down to provide a breakdown of the prevalence of athletes on the platform, and how these individuals as well as their teams and leagues can reach new audiences and grow their respective sports via social media.
Which teams, leagues or sporting organisations have been quick to embrace fan engagement through Snapchat, and how have you seen them benefit from this?
The way football fans experience the game has evolved, with many fans using their phones to chat with friends, celebrate iconic moments and access behind the scenes content during the game.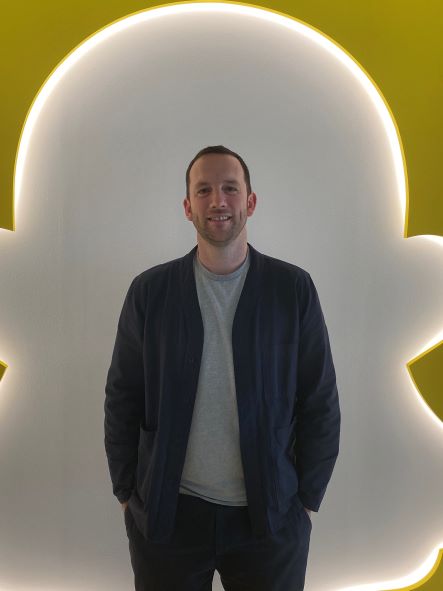 According to Marketing Dive, 52% of sports fans use a tablet or phone to access online sports content while watching sports on TV. Here in the UK, 80% of Snapchatters use the app whilst watching sports, providing a unique engagement opportunity to enhance the fan experience. From technology such as AR, made-for-mobile content formats and digital platforms, Snap is transforming the fan experience for football fans.
We are reimagining the fan experience today, with amazing partners like the NBA, NFL, La Liga, Real Madrid, Sky Sports, beIN Sports. Snapchatters can watch localised sports highlights and behind the scenes content on Snapchat's in-app content platforms, Discover & Spotlight, covering different perspectives from major broadcasters, digital publishers, leagues, teams and players.
You previously spent three years at the IOC, what role did you play in Snap's partnership with the Tokyo Olympics last year and how positive was the collaboration?
Having worked at the International Olympic Committee (IOC), I was especially proud to help bring the Olympics to life for Snapchatters through our collaboration with the IOC. The IOC understood the importance of engaging new audiences and reaching young people where they are to ensure it meets its objectives and spreads the Olympic values.
At Tokyo 2020, we wanted to create something inclusive, that allowed fans to experience the spirit of the Olympics and share their passion and energy for the Games. Using Snap's body tracking technology, we created a body-tracking AR Lens that encouraged fans to stay active throughout the tournament from wherever they were watching the Games.
It's a great example of a really positive collaboration using our AR tech which enabled the IOC to reach and connect with a highly engaged community of Gen Z who watch and consume sports content online.
Are sports organisations undervaluing the significance of short-form content in appealing to Gen Z and millennial audiences?
Sports organisations understand they need to build relationships with young people as they are 'the future of their sport'. It's important for organisations to take a proactive approach and ensure they are investing into how they reach and engage these audiences.
Sport is unique and fandom in particular is formed at a young age. Whether that be a passion for a sport, team or increasingly so, an athlete. The power of having a lifelong fan of your sport is often overlooked. However the way young people want to consume sport is very different. Mobile first and on their terms.
Reaching 90% of 13-24 year olds in over 20 countries, Snapchat offers a great platform to ignite that passion at an early age and engage the fans of the future. In 2021, over 200 million people watched sports content on Snapchat.
For example, Sky Sports UK has been a content partner since 2015 with over 1.8 million Snapchat subscribers. We've covered every single Premier League match and ensured every goal is available on Discover, ensuring Snapchatters can follow all of the action.
The 2020 Women's Euros was also available on Snapchat through our BBC Sport sponsorship. Off the back of the Lionesses success, we've continued to build our portfolio of women's sports coverage through our content partnerships.
Younger sports stars are increasingly becoming social media influencers as well, how do you see this shaping the future of sports marketing?
The Creator Economy is thriving and sport is a key driver of this. Gen Z sports fans are more likely to follow athletes over teams. The Ronaldo/Messi/Le Bron effect is well documented. At Snap, we're catering to that by ensuring these stars have a platform to build their community in a brand safe and positive environment.
Snap Stars, verified content creators as they are known, are particularly passionate about Snapchat and the point of differentiation. Snapchat was created for people to connect with their close friends, live in the moment and express themselves.
For example, in the UK, Alexander Iwobi, Everton player and Nigeria national Men's international player posts regular content from the Everton training ground and whilst playing for Nigeria, while Jesse Lingard, Nottingham Forest player posts content about his life as a dad.
We support all creators with a range of content and revenue sharing opportunities, from a reward program for Spotlight creators that create top Spotlight Snaps, to mid-roll ads in Snap Star Stories, to a Shopify integration that allows fans to shop merchandise from Snap Stars.
The UFC partnered with Snapchat last year – what role can the platform play in widening the viewership for traditionally 'niche' or 'underground' sports into the mainstream?
I would start by stating the obvious that UFC is no longer a niche or underground sport. It is one of the most widely viewed and followed sports, with a passionate, avid fan base across the world that is hungry for content.
On Snapchat our audiences are no different, they love the action, behind the scenes access and the incredible content the UFC creates.
UFC understands the opportunities that digital, social and Snapchat in particular can provide and the constant need to invest in the growth of their sport by serving their audiences' needs. Wherever they are and however they want.
Snapchat provides a platform for any sport to reach a highly engaged Gen Z community that talks about and watches sport everyday, in a brand safe environment Partners are also able to drive new revenue streams, innovate and create immersive experiences reaching a new generation of fans.
Certain more niche sports have had huge success on Snapchat, because they have had to do more to raise attention. From Cornhole clips going viral, to the success of World Chase tag (check it out if you haven't), success on Snap is less about the sport itself, but rather how it is presented and packaged for a Gen Z audience.
How important is it that clubs take a unique approach to fan engagement through Snapchat and how does it differ to other platforms?
Whether it is clubs, athletes, broadcasters or others, anyone aiming to engage fans on Snapchat needs to understand the consumption habits and tailor their approach accordingly. The innovation and technology that Snap brings is a major point of differentiation. Combined with our unique engaged Gen Z audience, it provides a compelling and powerful proposition.
We're very privileged to have amazing relationships with football Clubs like Manchester City, Real Madrid, Barcelona, Paris St. Germain and many more that allow us to innovate and work on exciting projects together. For PSG's recent record levelling 10th championship trophy, we created an AR face Lens for PSG fans.
We also transformed the Eiffel tower into a PSG branded celebration in Augmented Reality. This was through Snap's Landmarker technology that allows the Snap Camera to recognise buildings and trigger experiences within the app.
Some of the best examples of the potential for the Snap fan experience are happening in the US today. Our partnership with the LA Rams is an amazing example of this, where not only can you try on their kit and helmet, but also flip the camera and have their quarterback throw you a touchdown pass in AR.
Looking at engaging fans in the stadium for this season's NFL opener we also integrated the power of the Snap Camera into the SOFI Stadium's fan camera (made possible through Snap Camera Kit), putting some of the most popular Snap AR Face Lenses on fans in the stadium in real time. Think Anime cartoon, Crying lens and many more – definitely worth checking out.
How is Snapchat exploring Augmented Reality (AR) and what potential does this tech have for sports?
Augmented Reality is a major focus for Snap and has huge applications for sport and beyond. Today, over 250 million Snapchatters use AR and play with AR Lenses more than 6 billion times everyday. It has tremendous potential to transform the world of sport and the fan experience.
We have spent the last ten years evolving the Camera from a documentary device to a communication device. Snapchatters express themselves visually every single day. Our focus for the future is in evolving it into the AR platform of choice.
Sport is a perfect match for AR. It brings people together around shared experiences and passion. A brilliant example of this is our Hidden Black Stories campaign, developed to educate fans on the history of black footballers and celebrate their impact in football.
Until 10 years ago, out of more than 200 statues of footballers in the UK, not a single one depicted a black footballer. We partnered with Kugali media and Kick it Out to develop an AR Lens that allowed Snapchatters to see AR statues of four of the most iconic black football players from the England National team next to Bobby Moore's statue outside Wembley Stadium.
AR technology can also help fans virtually try-on football kits. For example, for the Euros 2020 partnered with JD to create an immersive, shoppable three-in-one dressing room portal experience that allowed Snapchatters to see what their own personalised shirt might look like for each of the Home Nations teams – with the ability to purchase from JD through Snapchat.
What are Snapchat's rules around sports betting promotion, and how should teams with partnerships in this space navigate these requirements?
We work within all the relevant frameworks and treat it importantly as we have such a young audience. This means no under-18s would be targeted with any content related to sports betting brands.