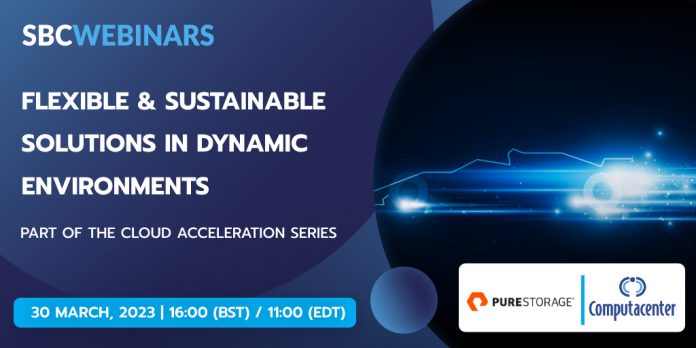 Formula 1 and multi-cloud services are two things that, on first thought, may not possess too many similarities. However, there are a lot of lessons that the gambling industry can learn from motorsport – particularly when it comes to the role that multi-cloud infrastructure plays in keeping a gambling operator in "pole position", especially around major sporting events.
In the latest instalment of the Cloud Acceleration series, entitled Flexible & Sustainable Solutions in Dynamic Environments, taking place Thursday, March 30th at 11AM EDT, which is sponsored by Computacenter alongside Pure Storage, we will take a look at the ways iGaming firms can use cloud-based solutions to revamp their existing IT infrastructure, and remain flexible and dynamic in a cost-effective manner.
Leading the live webinar discussion is Computacenter's Nick Gibbs, who previously worked as Trackside IT Infrastructure Engineer at Red Bull Racing and Converged Infrastructure Specialist at Mercedes-AMG Petronas.
He is joined by Fred Lherault, Field CTO EMHe EA & Emerging at Pure Storage, and Paul Nearn, Solution Leader – Platform & Hybrid IT – Computacenter.
This webinar will be focused around remaining flexible and dynamic with your IT infrastructure, and how gambling operators can respond to busy periods by using cloud computing.
The trio take a look at the transition of tools, people and processes from multiple cloud systems to one centralised multi-cloud platform – something that can sound quite daunting at first, but it is a migration that Computacenter and Pure Storage pride themselves on making easier for partners.
Overspending on cloud technologies will also be a big focus. As many companies look to tighten the purse strings and streamline business processes, data has previously shown that cloud spend has been a key consideration for many gaming companies over the past five years.
Diving deeper into these concerns, Computacenter will look at the differences between FinOps and tuning – exploring how cost optimisation requires actionable intelligence and the ways that cost control services can fit quite nicely into the services and processes that Computacenter offers to its customers.
Paul Nearn's F1 experience will also be under the spotlight as he walks us through the process of preparing for race day, and shares some facts and stories about the reality in the pit.
Similar to a gambling firm, F1 teams require the highest possible levels of performance when it comes to race days. This webinar will draw a parallel between this and a gambling company during a busy period, for example around a major sporting event.
During the webinar, Computacenter and Pure Storage will also walk us through the ways multi-cloud technologies will achieve this performance, the applications that this can have for iGaming businesses and why reliability of data is of the utmost importance.
To register for the webinar, simply click here and enter your details. Can't make the live airing? Register anyway, and the webinar will be available on-demand, any time you like.