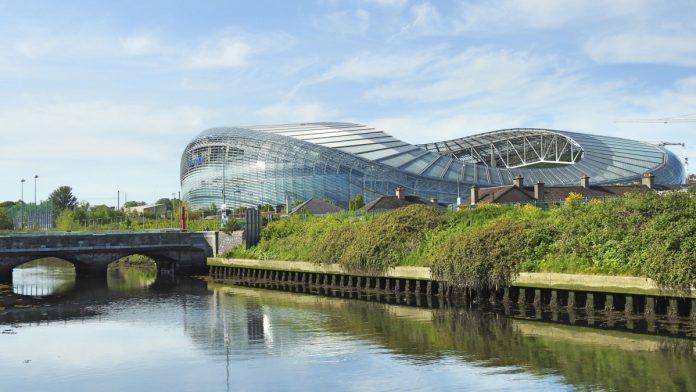 The Irish Independent has reported Chair Roy Barrett and CEO Jonathan Hill of the Football Association of Ireland (FAI) are doubling down on support for betting tax funding.
The publication reads that both Barrett and Hill have expressed confidence in the €863m infrastructure plan at a recent press conference, with the duo adding that it 'shouldn't be hindered' by past mistakes.
Hill specifically has outlined the levy as a 'strong example' of the Irish government's commitment to a fair betting environment. Barrett on the other hand has called for a levy increase from 2% to 3% so that 'wealth can be spread' more evenly across football and all other sports.
"What happened prior to 2019 will never happen again", Hill said regarding the 15-year plan for infrastructure. "This is a new debate and conversation we're going to have with the government."
"We have started discussions already with the Department of Sport and Sport Ireland," he continued. "They have been very positive. They are supportive of any proposal that brings the wider debate of funding sport to the table."
Barrett added: "At the time, I absolutely believed it was the right thing for the government to step in and stabilise the organisation.
"They placed a lot of trust in the management and the board to do that and help the game grow against the backdrop where they absolutely recognised the relative importance of football in this country and what it could be.
"But if you look over the last 20 years and however things were managed and whatever the perceptions were, the reality is as a sport and a leading sport, football was grossly underinvested in compared to the other main sports."
FAI's Chair also went on to discuss the necessary financing of new facilities for people where "there hasn't been sufficient investment in football compared to any other leading sport".
"Any government funding for anything, particularly sport, is going to be emotional. People will have an emotive view, whichever sport they are from," Barrett continued.
"What we have sought to do over the last 18 months is to take the emotion out of it and say, 'the facilities are poor'. It makes sense in any economy, when you have surpluses like that, to spend a chunk of it on improving infrastructure."
There are ongoing efforts in Ireland to introduce improved regulatory changes after legislation was passed last year that inaugurated the Gambling Regulatory Authority (GRA) and a "social impact fund".