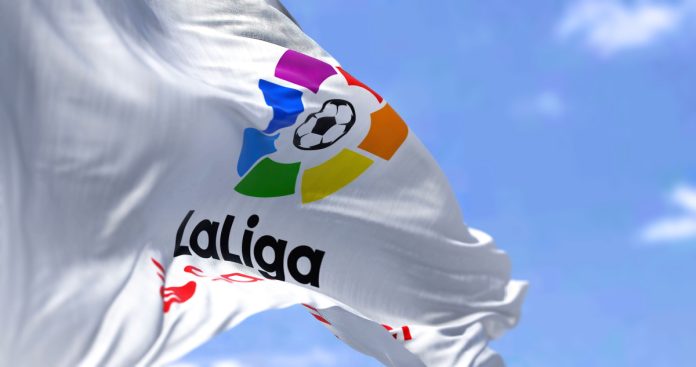 La Liga has kicked off a "new era" by partnering with video game company Electronic Arts (EA) which will entail a major brand evolution for the Spanish top-flight league.
A part of La Liga's new global strategy, EA will help the league achieve new touching on positionings as well as making tangible changes in audiovisual and digital broadcasting.
Moreover, the league will now be rebranded as 'La Liga EA Sports', with the second division to be renamed as 'La Liga Hypermotion', referring to the technology used in the EA Sports FC video game.
The relationship of La Liga and EA Sports dates back to their initial partnership which dates back 10 years, but is now moving on to a "new level"; the leading games publisher becomes the first ever international partner to be title sponsor of the competition.
Javier Tebas, President of La Liga, said: "Today we begin a new era that represents a revolutionary change for both Spanish football and the industry. And we do so surrounded by clubs and strategic partners such as EA Sports, without whom none of this would have been possible. Together we want to create a better football for society and a better society for our football."
La Liga also stated it will continue in its commitment to expanding the global football ecosystem together with the worldwide industry leaders with which it partners – such as Microsoft, PUMA, Mahou San Miguel and BKT.
"La Liga uniquely shares our vision for a fan-first future of football, and this partnership brings us the opportunity to reframe the way in which fans engage with the game," added David Jackson, VP of Brand at EA SPORTS.
"Combining our expertise in building globally diverse audiences with LALIGA's spirit of innovation, we will continuously challenge each other, learn, and grow together as partners.
"As we enter a new era with EA Sports FC, we're excited for our LALIGA partnership to come to life in a variety of ways, from audio-visual technology to entertainment innovation, from grassroots initiatives to digital communities, all with the intention of bringing fans closer to football."