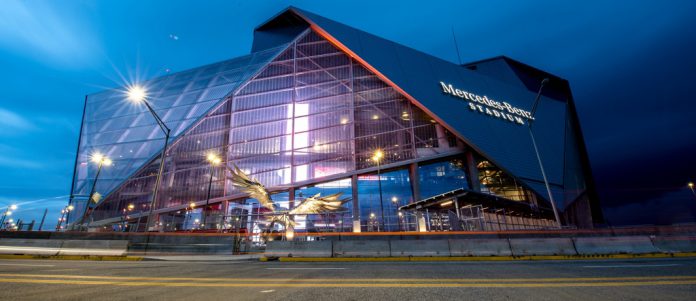 Home of the reigning MLS champions, Atlanta United's Mercedes-Benz Stadium (MBS) is the first stadium in the league to go cashless.
It comes as the club seeks to improve the matchday experience for fans, implementing a complete stadium-wide cashless transaction model. Which will see all transactions require the use of a credit or debit card or mobile payment beginning with Atlanta United's home opener on 10 March, 2019.
Steve Cannon, AMB Group CEO commented: "Arthur Blank repeatedly challenges us to find innovative ways to further improve operations across our businesses. As we've always said, it is incumbent on us to listen and respond to our fans and we've heard that value, quality and speed of service are incredibly important; therefore, we've again made operational adjustments that address each of these areas.
"Our fans are our most important influencers and we want to ensure they have the level of service they've come to expect from Mercedes-Benz Stadium."
MBS will feature ten cash-to-card kiosks around the stadium for those who prefer not to use their own cards or who prefer to carry cash. Supporters will be able to feed the cash into the machine and obtain a pre-paid debit card with the same amount with no transaction fee.
Transitioning to cashless transactions stadium-wide allows the stadium to move away from its whole-dollar pricing model, which was initially instituted to help speed transaction times, to further improve MBS's already best-in-class speed of service.
Additionally, going cashless produces more flexibility to adjust prices on food and beverage options more regularly, creating the opportunity to lower prices incrementally versus keeping prices static. MBS already holds the single-event record for all sports venues run by the stadium's payment and transactions processing partner, NCR, for the number of credit card transactions processed on food and beverage with 76,446 transactions processed at Super Bowl LIII.