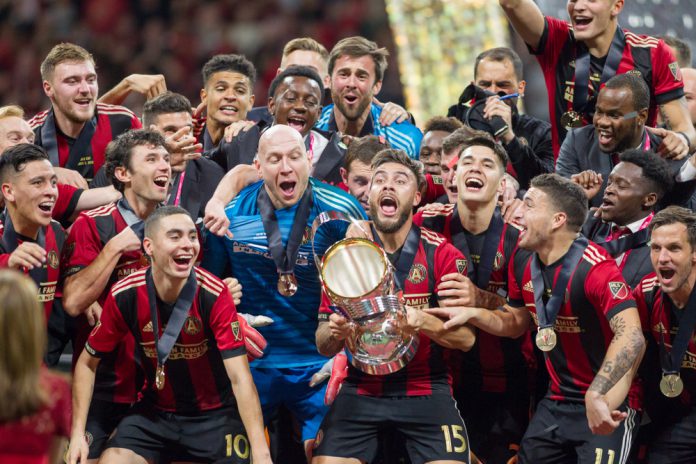 Atlanta United's Mercedes-Benz Stadium has been confirmed as the first professional North American stadium to implement a cashless transaction and payments model.
The model will commence on March 10, when the reigning MLS champions begin next season.
The model will allow for more flexible pricing and enhance the overall event day experience, providing matchday fans with greater efficiency.
Steve Cannon, CEO of Atlanta Falcons and Atlanta United parent company AMB Group, which operates the stadium, said: "Everything we saw in 2018 gave us the confidence to make the decision to become a cash-free stadium.
"For us, this is all about speed of service. This move to cashless will allow us to transact at a higher level and satisfy demand when demand is there."
The 2019 Super Bowl host will now only accept credit and debit cards, along with other mobile payment methods; the move seeks to eliminate costs of handling cash – including security, physical cash drawers and reconciliation.
To accommodate those who might not want to take part in cashless transactions, the stadium will have at least 10 machines located around the stadium where customers can insert cash between $10 and $1,000 and receive a prepaid Visa debit card.
AMB Group also announced it would lower prices on some food items along with two promotions that are being released with the cashless switch.
Apple Pay's mobile-payments service will allow users to receive instant rewards on purchases inside the venue.
Mercedes-Benz Stadium is not the only major North American sports facility to announce the switch to cashless payments.
In January, Major League Baseball team Tampa Bay Rays announced that their home stadium – Tropicana Field – will become a cash-free sports venue from the start of the 2019 season.
In the UK, Queens Park Rangers introduced the QPR Pay app which means Loftus Road will use the QPR Pay app for admission to matches – at the turnstile, you simply scan your ticket's barcode from the app on mobile – as well as at all sale points, whether it be food, beverages or club merchandise.