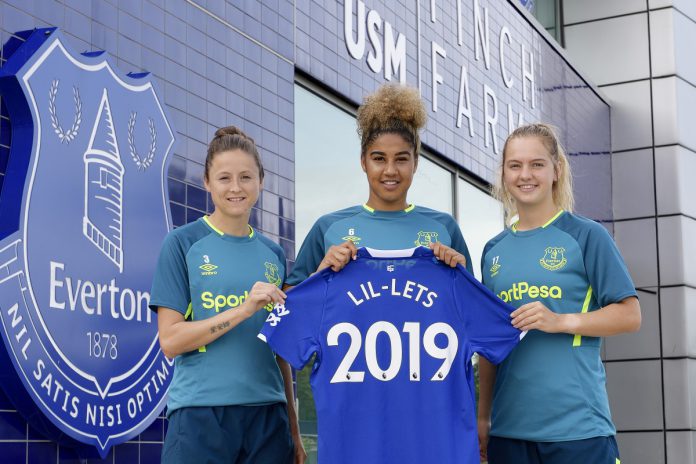 Everton Ladies has partnered with feminine hygiene brand Lil-Lets ahead of the upcoming 2019/20 FA Women's Super League (WSL) season.
As a result, Lil-Lets becomes an official supporter of the club, and will in turn work alongside Everton Ladies to create engaging events and inspirational content which aim to promote the life-changing benefits of sport for women. 
Aaron Little, General Manager, Everton Ladies, said: "We have an exciting season ahead of us, and we're delighted to kick it off with Lil-Lets as an Official Supporter. This partnership reflects the growing interest in the Ladies game and Everton Ladies specifically. I am looking forward to seeing how we can work together to make a positive impact through the power of sport."
The partnership will see Lil-Lets given access to advertising opportunities during match-days, with its brand set to have a presence pitch-side and during FanZone activities, as well as across Everton Ladies' online portals. 
Everton released a statement regarding one of the club's objectives following the deal: "The partnership will also seek to tackle period poverty and reduce the stigma around periods for girls and women of all ages through education and promoting open and honest conversations."
Mary Young, Marketing Director at Lil-Lets UK, concluded: "Participation in sport can make a huge difference to the life of a young girl or woman. Benefits include improved physical and mental well-being, body confidence and mindset as well as helping to alleviate symptoms such as period cramps.
"By working with Everton's Ladies, we hope that we can inspire girls and women in the Everton community, and other communities around the country, to participate in sport and start conversations around periods."
The deal comes ahead of what could be the most important WSL season in the competition's history, as the sports builds on the hugely successful World Cup last summer. Prior to the tournament, TalkSport and Sky Sports presenter, Faye Carruthers emphasised that it would be huge for the growth of the game if the Lionesses enjoyed a successful tournament.
"The Lionesses finished third in the 2015 World Cup which generated lots of interest, but because it was in Canada, there wasn't the same amount of support as there will be with the tournament in France. The hype surrounding this year's tournament is huge and with Nike creating bespoke kits for the squad, a number of player-led sponsorship drives with Lucozade and Swarovski as well as Barclays becoming the headline sponsor for the WSL next year, the popularity and sponsorship opportunities are only going to grow.