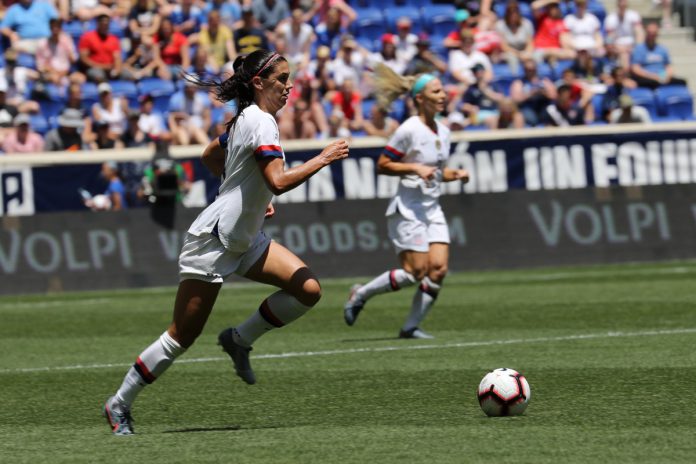 Andy Elliott, the co-founder of Sport Acuity shares his thoughts on the journey of women's sport and what needs to happen for it to continue on its path of exponential growth. 
Following the success of the FIFA Women's World Cup, where the England team came tantalisingly close to glory, it feels like women's team sports are finally achieving critical mass in terms of reach and audience. Still, while it's true to say that women's sport now has a greater following than ever before, and it's certainly come a long way, the journey is far from over. 
A century of determination
When Madge Syers became the first woman to compete at the Ice Skating World Championships in 1902 – she would go on to win Olympic gold in the first separate ladies competition in 1908 – I wonder if she thought that 117 years later, the fight for equality and recognition would still be going on. 
Since then, there have been many trailblazers. In 1926, Getrude Ederle became the first woman to swim the English Channel and, in 1948, Dutch mother-of-two Fanny Blankers-Koen won four spring gold medals at the London Olympics. In 1967, Kathrine Switzer became the first woman to run an official marathon, and Bille Jean King won 29 Grand Slam competitions before going on to form the Women's Tennis Association (WTA).
What's less well known is that individual events have often had it easier than team sports. For example, a successful women's football team was formed in 1917, known as the Dick Kerr Ladies. After they went on to play at Wembley in front of 53,000 people, the FA took fright and banned women's football completely in 1921. The ban stayed in place until 1971 and, while it was regularly broken at a local level, it prevented any kind of official organisational structure from forming.
Positive steps towards the mainstream
It's thanks to the bravery of sportswomen over the last century, and their willingness to push back against embedded chauvinistic attitudes, that women's sport is in such a positive place in 2019. From cricket to boxing and golf, we are seeing the rise of female teams and individual participants. The number of people watching is also on the up, and levels of investment are growing as a result. You could call it a resurgence, but then it's never been this big before, so the only way is up.
There is no single reason why women's sport is on the rise. As we've already seen, it's been a long and often frustratingly slow process, driven both by the determination of women in sport and the growing movement for gender equality in wider society. The role of established stars like Phil Neville as the England women's football coach has also helped to raise the profile of the game, although that is a consequence of the its growing popularity, rather than a catalyst. 
Enhanced perception
Research by Nielsen Sports suggests that 84% of the population now take an interest in women's sport, with 66% saying they actively follow at least one.  The same research also showed that 51% of fans of women's sport are in fact men. This is interesting because it shows that women's sport is becoming part of the mainstream, with media coverage, analysis and discussion evolving to reflect this.
It's also interesting to note that women's sport is generally viewed more positively than men's and is perceived as more wholesome, free from the big money that has come to dominate many male sporting genres. This is reflected in the fact that 36% see it as more inspiring (26% for men's), 32% see it as progressive (17%), 25% as family oriented (13%), and 26% see it as clean (8%). On the flipside, only 7% see women's sport as money driven, compared to 39% for men's. 
Challenges lie ahead
The big challenge for women's sport will be to maintain this positive perception as the business side continues to expand and seeks greater dominance. As we've seen in the male sporting genre, more fans means more spend, which leads to greater investment and increased pressure to generate a financial return. It's not that women's sport shouldn't make money, and it's still a million miles from the levels of men's sport, especially in football, but that many of its USPs are based on the fact that it is currently relatively free from the control of corporate finance. 
In some ways, consumer brands see women's sport as a refreshing alternative to the big-money world of established men's teams. Not only is it better value in terms of sponsorship and advertising, its positive perception can also offer a more affirmative brand association, which many marketers crave. Women in sport are now seen as role models for young people in a way that men were in the days of Roy of the Rovers. In men's sport, money has often taken away the bond that existed between top level players and the grassroots, with football being the most extreme example.
Who would bet on that?
Another challenge is the growth of betting. In football, total wagers on some Women's Super League One matches are now exceeding £1 million and, as women players earn a fraction of salaries of their male counterparts, the FA see them as more vulnerable to match-fixing bribes. This is something that they are actively looking to address by bringing more matches within the remit of the Sports Integrity Service. 
That said, the overall picture is a positive one. We are seeing leading news organisations like the BBC and the Daily Telegraph set up dedicated teams to cover women's sport and viewing figures for the FIFA Women's World Cup final are expected to smash the 750 million viewers seen back in 2015. The trick for women's sport will be to embrace the opportunities that increased investment and support can bring, without losing sight of the factors that make it unique.