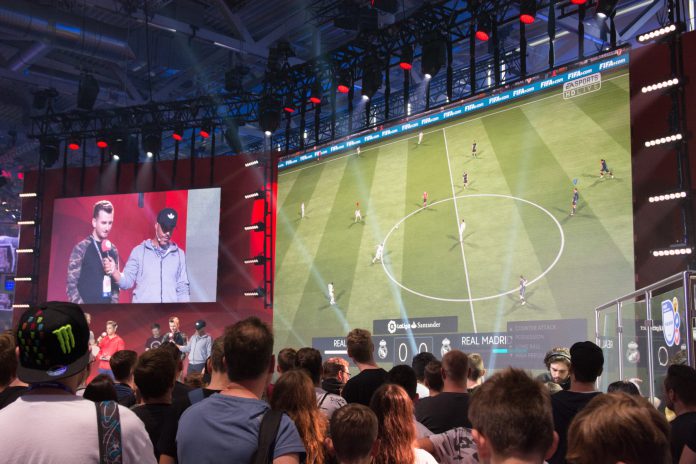 From sponsorships to industry-wide announcements, Insider Sport has you covered when it comes to the world of esports. 
This edition takes a look at Italy's newest esport competition, U.S. Navy's DreamHack takeover, and Man City's new FIFA deals.
eSerie A launches amid growing FIFA esports expansion
Italian football's Serie A has partnered with Infront Media to launch a new FIFA esports competition, the eSerie A.
Similar to the the ePremier League, competitive gamers will be represented by Italy's top clubs, featuring a group stage, play offs and then grand final in May.
Luigi De Siervo, Serie A's chief executive stated: "Esports are a phenomenon in continuous growth and expansion and represent one of the key sectors of business in sport.
"We have the great opportunity to involve an increasingly broad and cross-sectional target, thus bringing us closer to the new generations. All fans will now be able to follow a new championship and the best will be able to represent their favourite team by challenging themselves with their gamepads."
The tournament, being run by Infront alongside PG Esport, will also feature a draft system for clubs to pick Italy's best FIFA players on the playstation platform before the competition begins.
The entirety of the competition, which began on Monday, will be available to watch via Lega's digital platforms and multiple online platforms, including YouTube and Twitch.
U.S. Navy to be featured at DreamHack events
Esport giants DreamHack and ESL have announced a partnership with the American Navy for its upcoming events.
As part of the agreement DreamHack, which hosts some of the biggest esport conventions in the world, has titled the U.S. Navy as the official festival partner of DreamHack Anaheim and DreamHack Dallas.
Brendan McLane, commander of U.S. Navy recruiting command, commented: "The Navy is excited to partner with DreamHack and ESL as we enter the esports space. Like the Navy, esports requires a variety of skills and roles, and a strong commitment to continual improvement." 
Marcus Lindmark, co-CEO of DreamHack, added: "We are honoured to have this partnership with the U.S. Navy. We know gaming is a hobby for many who serve their country, so to unite our festivals in Anaheim and Dallas with this respected military branch is particularly meaningful to us.
Throughout DreamHack broadcasts the U.S Navy will be integrated into all of the on and off-screen marketing, whilst creating branded content focusing on the Armed Forces branch's activations.
Tinder couples with paiN Gaming 
Brazilain company paiN Gaming has revealed that Tinder will partner with the side in its Free Fire, Counter-Strike: Global Offensive (CS:GO), Dota 2, and Clash Royale divisions.
The agreement, announced via the firm's Twitter, is expected to include marketing video content whilst also offering users with promotional codes for Tinder Gold.

Throughout the selected titles all paiN Gaming jerseys will feature the social dating application's logo on the shoulder of all player shirts.
Other partners of paiN Gaming include the likes of Coca-Cola, Razer, and BMW.

This is Tinder's second esports crossover after partnering with another Brazilian organisation MIBR in June 2018.
Esports and social dating has recently forged a strong partnership over the last few years. In 2019 Gen.G collaborated with Bumble as the company launched its first all female Fortnite team. 
Nexen Tire and Etisalat broaden Man City relationship into esports
Etisalat and Nexen Tire have expanded its working relationship with Manchester City by sponsoring the club's esports division. 
The telecommunications service provider and tire manufacturer will be sleeve partners for Manchester City eSports throughout the FIFA 20 Global Series.
FIFA players Ryan Pessoa and Shaun 'Shellzz' Springette debuted the new sponsorships at FIFA's eClub World Cup in Milan last week, in which Man City failed to make it out of groups.
Nexan is already a sleeve sponsor for City's men's football team whereas Etisalat are currently a regional sponsor for the club.
City's esports team is next in action for the ePremier League's qualifying event this Friday at the club's Etihad Stadium.