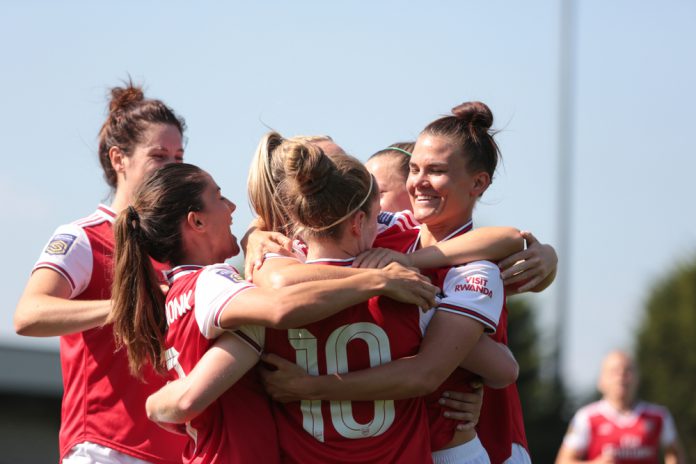 Women's football has grown in popularity year-on-year, from the Women's Super League (WSL) becoming a fully professional competition in 2018, to the record-breaking viewing figures from last year's Women's World Cup, which surpassed 1.12bn viewers.

Now is the time for investors to start looking at the sport as a valuable marketing opportunity. Earlier this month, it was revealed that the Football Association (FA) was taking the next step into bringing more financial profitability to the women's game with its domestic broadcasting rights being up for purchase, as opposed to previous years in which they were provided for free.

Insider Sport spoke to CEO at Football Media Dean Akinjobi, a company which specialises in football marketing, advertising and sponsorship, with a dedicated women's football division, regarding how beneficial the FA's decision is to the future of women's football.

Akinjobi emphasised: "This is a groundbreaking step as it shows great confidence in the WSL as a product, which has only been a professional league  for just over two years and during this time the FA has historically been conservative in their approach around the development of the WSL when it comes to media rights. 
"This step is validation that the WSL has huge growth potential and commercial standalone value both on and off the pitch."

"The FA and WSL's decision to sell domestic media rights will be hugely beneficial as it will provide women's football with the opportunity to generate a strong additional, and potentially core revenue stream that can be distributed between WSL clubs to help to develop and grow the game both on and off the pitch.
"We have seen this model successfully work for the Premier League domestically and the FA has already successfully solid WSL media rights in regions such as Asia and Scandivania, so it's the right time to expand on the media rights distribution at a domestic level to benefit from women's football continuous growth."

The factor to consider regarding the FA's decision to auction out its WSL right's is if there are potential buys in the market willing to spend on the sport. These concerns should be considerably squashed though as Akinjobi feels that to broadcasters, women's football is a potentially lucrative market.

The Football Media CEO continued: "I think that the WSL domestic media rights are important to broadcasters. If you take a look at the BBC and BT Sports coverage and how they have aligned themselves with the WSL and women's football in general, for example, if you take a look at BT Sport's, BT Red Lioness pledge, which is an initiative that has been signed by over 1000 venues, the pledge aims to inspire pubs, bars, clubs and hotels across the country by opening their doors to women's football, screening matches live from the WSL through to the England Women's team, with the objective of creating an inclusive and welcoming environment for Women's Football fans, it speaks for itself, and this has been achieved through a commercial model where they have just covered the production costs for the WSL broadcast rights. 
"Women's football is one of the fastest-growing sports with an untapped audience that will offer unique opportunities."
"There will be a wide range of broadcasters that will be interested in the WSL media rights, current domestic broadcasters such as BT Sport, BBC, Sky Sports, ITV, Channel 4, Channel 5 will lead the process. However, there will also be a possibility for new entrants in the market to acquire the domestic broadcast rights to either leverage or develop their UK offering, such as Amazon, Facebook, beIN Sports, Twitter, Premier Sports, DAZN and EuroSport."
Nevertheless, it will not only be the broadcasters that will benefit from women's football's rising popularity, but the footballers and clubs as well. The more media attention any sport gets, the greater the sponsorship opportunities, leading to more lucrative financial rewards directly through partnership money or indirectly by increasing the average wage for women footballers. 

Akinjobi concluded: "The announcement will have a very positive effect on the WSL and women's football in general for the foreseeable future as it shows that the game is going places and is only going to grow with domestic and international distribution.
"[This] will, in turn, attract more players and sponsors and help to develop the game from a grassroots level, as there will be more revenue available for clubs and associations to invest in the games continuous growth and future, which is very bright.

"There are currently major disparities at some clubs when it comes to the women's team, not just the obvious wage difference in comparison to the men's team, which is understandable as they are field apart when it comes to the revenue that they generate. 
"It is areas such as basic facilities and services that should be on offer to a professional football player regardless of gender as both are representing a club at the highest level and should have equal access to the same services and facilities, which sometimes isn't the case, this is why sponsorships are so important to women's football."
To conclude, the FA's decision to auction its domestic rights is a testament to how far the sport has come in the UK. The announcement is only part of the story but it starts an important journey for the women's game as it continues to develop through every sporting aspect.