At the end of May, amidst a global health pandemic in which sporting competitions were being postponed or cancelled, LiveScore announced that it had teamed with StreamAMG to create its own live stream service.

The following month the sports score update firm announced media rights agreements with the likes of Serie A and Liga NOS to stream games for the remainder of the 2019/20 campaign.

Following a successful launch of the service the Serie A remains available for UK and Ireland fans this season alongside new competitions such as the Chinese Super League and the Eredivisie.

Insider Sport sat down with Rob Brown, the head of LiveScore TV, to ask the question what is next for the platform? and does the road stop at just football streaming?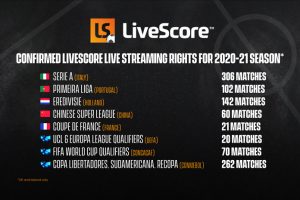 Firstly, Brown spoke about the origins of LiveScore TV and how the decision to enter into the sports streaming service came about.

He stated: "We felt, to be honest, it was almost a natural extension of our existing products. Users are used to coming to LiveScore and keeping track of what's going on. What better way to do that than by providing a live streamed match. So we decided at the start of the year. There were a set of rights that have been put in front of us and we felt that the timing was right. Obviously, this is pre Coronavirus but back then the plan was to launch pretty much as we have really."

Additionally, the head of LiveScore TV, highlighted that the Serie A was certainly a market that the firm wanted to tap into right from the beginning given its popularity in the UK and Ireland. Since then, according to Brown, the benefits of instantly establishing themselves with a reputable competition has opened up even more avenues for LiveScore.

"We knew the appetite of our users for Italian football, Serie A in particular. So the opportunity arose via Saran Media Group who we know and have worked with for a long time," said Brown. "The mixture of the portfolio of rights and the timing really, for us, was what made it right.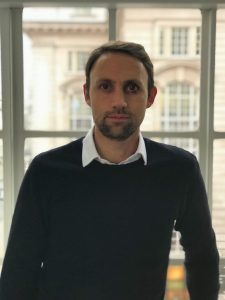 "I think what it's enabled us to do is provide us with some instant credibility within this space. So as a result of streaming that type of premium content we're now having some really interesting conversations with clubs, but also other live rights holders as well."
The rise of sports-specific services has been well documented as of late with the likes of MotorSport Network and the Hall of Fame Resort looking at identifying an activity and branching into other industries. However, Brown revealed that whilst LiveScore is primarily focusing on football, there is a possibility that the firm will branch out into other sports if the correct rights are available. 
He explained: "LiveScore at the moment covers five sports – football, hockey, basketball, tennis and cricket. It's fair to say football is definitely the most popular, however, we're already having conversations with rights holders in sports that we don't cover on the app and website. Those rights holders recognise the opportunity to put their product in front of users who are sports fans rather than being a fan of a particular sport.
"It's a fascinating space and it's very difficult to think too far ahead, in terms of plans, but I would say that those USP's around our free-to-air service, our distribution and our context, hopefully gives us a really interesting position for rights holders to look at."

Whilst LiveScore's new streaming service has been met with a lot of praise, it has also received feedback over its choices to not instantly have casting ability. Whilst others have also talked about the firm's choice to only have the service available on its app and not on its desktop website.

Detailing the reasons why LiveScore opted to launch without those features, Brown discussed that one of the firm's hardest challenges was prioritising which features to add when the service came out.

Brown said: "The biggest challenge is trying to be quite ruthless in our decision making. We've got a long list of plans and developments that I'm hungry to get working on. But I want the deployment of the product and the user experience to be a good one. 
"We considered launching with casting because we knew from a mobile perspective it was a natural feature to include. However, we decided pre-launch that actually we were going to sit tight on casting and that would be a nice feature that we could evolve into over the coming weeks or months.

"We could have arguably bitten off more than we could chew and launched the web service at the same time as the app but we actually chose not to you because we felt that they are very different platforms. 
"Desktop behaviour and how we consume video content on desktop is completely different to mobile. So it felt like that in itself was its own project and so we decided very early on that what we're going to do is double down on the app experience.
"It's more about, in that particular instance, lining things up in sequence rather than not actually choosing to do."
To conclude Brown opened up about LiveScore TV's plans for the future. With the likes of casting, a website service and potential rights in other sports already discussed, he brought up that the firm's next venture is in the world of on-demand content.

He commented: "We will be launching on demand content, I would say in the not too distant future. I'd say, by the autumn we'll have on demand content being distributed and I hope will also be distributing that same content, not just to the UK and Ireland, but around the world.

"The ability to provide users with access to press conferences, highlights, goal clips, and match replays even, for me, is just as exciting as the live streaming element. So we're talking to not just live rights holders, but we're talking to football clubs and other organisations about elevating the distribution of their on demand content."

With LiveScore already having a global audience with its sport score updates service it seems that the transition into sports-streaming has proven to be a successful one, with future developments to expand destruction and develop on-demand content already in the works. 
The potential growth of the firm, alongside the likes of Matchroom Live and Motorsport.tv highlights that the way sport is being consumed is starting to change with sports content seemingly following the likes of other media industries into the online world.