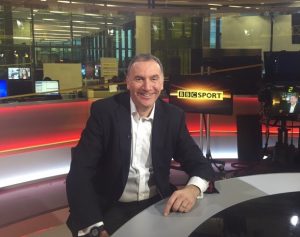 Last week, the government unveiled its Winter Survival Package to safeguard the future of sports in the UK and mitigate the effects of COVID-19. However, the English Football League (EFL)  was not included in the plans, with officials suggesting that the Premier League should provide support to Championship, League One and Two clubs.
Kieran Maguire, a Football finance expert and author, sat down with Insider Sport to discuss the impact that the spectator ban has had on the sport and why the government should do more to help struggling EFL clubs who may be able to welcome fans back to stadiums in December.
IS: It was announced last week that the EFL would be excluded from the government's Sport Winter Survival Package which was quite a blow for some of those teams. What do you make of the decision to hold out for support from the Premier League instead?
KM: It does seem to be an inconsistency. Rugby AND cricket are effectively funded by international games, whereas football – to a large extent – is driven by the success of the Premier League.But the Premier League has not been allowed to generate revenue in the form of matchday income which is worth just short of £700 million a year. 
We've taken that amount of money out of the Premier League's pot and then the government turns around and says it's the Premier League's responsibility to dig out the EFL. 
The EFL generates around £230 to £240 million a year through matchday sales, but the EFL has not been allowed to generate revenue either so it's had to go cap in hand to the Premier League, who itself has been prevented by the government from revenue generation.
It's a paradox, and the logic behind the decisions seem to be lacking. I'm all for as much financial support as possible for the likes of netball, basketball, rugby union, rugby league and so on. They play an essential part in communities. But to say that football is immune from this – given that it is our national sport – does seem to be very illogical.
IS: A number of clubs lower down in the EFL were in dire straits even before the coronavirus pandemic so how are they faring now?
KM: If you take a look at the pre-COVID environment, and I crunched some numbers, I worked out that 52 clubs out of the 72 in the EFL were losing money. If you then drop down into the National League, 21 out of 24 were losing money. Football's finances were in a precarious state, and certainly some form of long-term strategic review is necessary. But now is not the time to do that. 
Now is the time to ensure that these clubs that form part of the identity of individual towns and cities should be preserved. I'm not saying football should be given a benefit over other sports and industries, but it should be treated as an equal.
Some of the populist comments that have come out, with regards to footballers' wages, need to remember that sport is a talent-based industry. If you've got more money coming in based on the success of the industry itself to strike commercial and broadcasting deals, that money goes to the talent. For the government to pick on the players and now to say that the Premier League has a responsibility to dig out the rest of the football pyramid because it spent so much money on transfers seems strange. 
If you spend £1.2 billion pounds on signing football players, other football clubs have received £1.2 billion pounds so a lot of that money is filtering through to clubs in the EFL and providing financial support, but that goes against the narrative.
I went to a meeting with an EFL club and they showed me data from the day that they play at home within a one-and-a-half-mile radius of takings from local chip shops, pubs and so on. Those were increased by 300% so they were actually helping other businesses to survive and that has to be good for long-term business and employment prospects. There is more to football than just the football club itself, and the approach taken by the government is going to increase the probability of these organisations going out of business. 
To give some credit, the extension of the furlough scheme is a step forward. Oliver Dowden did say that clubs would not be conceived by HMRC in terms of unpaid taxes so that will give them some breathing space. But football seems to have been used as a bogeyman by the government and politicians, and that's unnecessarily harsh.
IS: The EFL has already rejected a bailout package from the Premier League. However, should they agree on a deal, how will that be distributed among the EFL contingent?
KM: There is a £50 million package on offer from the Premier League which is £20 million of grants and £30 million of loans. My understanding is that it would be allocated on an average attendance basis. In addition, the Premier League could say to clubs in the Championship, 'if you have financial problems, approach us and we will not let anybody go bust'. 
I get access to bits, and from the Premier League's point of view, there are players in the Championship that are earning multi-millions per year so the Premier League could say that if the clubs signed up for those contracts, that's a problem for the individual clubs.
There is also the fact that the combined wealth of the 24 owners of clubs in the Championship is £30 billion pounds so under those circumstances, the Championship to a large extent can look after itself. 
I'm not singling out Stoke but they're owned by bet365 and bet365 has been one of the companies which has benefitted from the pandemic because we're stuck indoors and more people are gambling as a result of that, especially after football returned. They do tend to be the biggest players in town and over half the clubs in the Championship have betting sponsors. The EFL are very defensive of the betting industry because at present, they do need the money.
Those clubs who are in the bottom third – the likes of Millwall, Rotherham and Barnsley – you can understand why they might need financial assistance but not all the clubs in the Championship are in need of all their gate receipts replacing.
IS: The iFollow streaming service has stood in for lost ticketing and other matchday revenue. How important has that income been for clubs?
KM: I have seen documentation in relation to iFollow and realistically, it's generating no more than 10% of what you would expect to receive from matchday income so it's in no way replicating those monies that would be generated. Every little helps, there's no doubt about it, but iFollow was in existence pre-COVID so many fans who weren't going to away matches would have signed up anyway. Talking to club owners and executive, especially in the lower two divisions of the EFL, they say that as well as losing matchday income, the majority of their commercial and sponsorship income is from people advertising in the programme and people using perimeter adverts and things of that nature, and they've all stopped their relationship with the club because what's the point in advertising in a stadium that has no fans to observe and potentially buy into the brands themselves?
IS: On the other hand, the top flight's pay-per-view service has been widely criticised for its pricing strategy. Was that the right decision to abandon that model?
KM: Fans were willing to accept the principle of pay-per-view but if you go back to marketing 101, it's: product, promotion, price and place. Well, the price was completely inappropriate. What we have since this introduction is both the Premier League and the major broadcast partners pointing the finger at each other so whoever is responsible for that has either made a very political decision or alternatively, a very naive decision to think that that football fans can be rinsed, is the word that I would use. It's as simple as that. Burnley versus West Bromwich Albion at 5.30pm on a Monday evening isn't worth paying £14.95 for.
IS: The Women's Super League was also included in the government's package which was intended to make up for lost crowd revenue. However, the WSL has allowed spectators. An FA Cup game between Leyton Orient and Dulwich Hamlet even broke an attendance record. What do you make of that?
KM: The WSL doesn't by itself the huge sums of money that we see coming into the Premier League and to the EFL in terms of broadcasting rights deals. It's been a real tragedy for the WSL because interest has been growing. The fact that you've got both Manchester United and Manchester City in the WSL Premiership, you've got the four London clubs as well, and last year we had Everton playing Liverpool, they were starting to generate some impressive attendances at games. Now that's been denied to them.