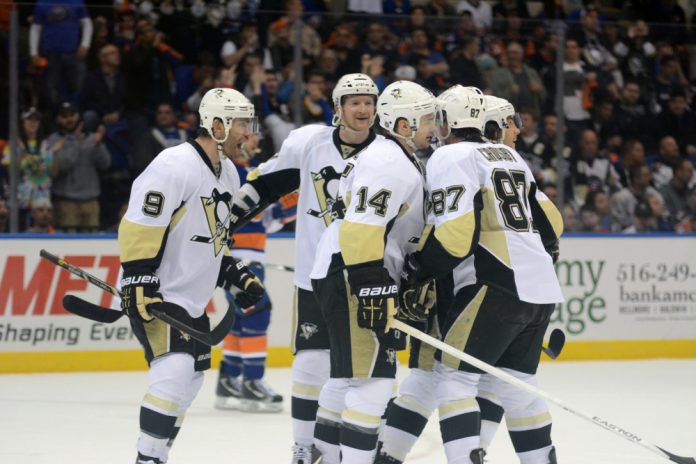 Ten more National Hockey League (NHL) teams have announced helmet sponsorships, after the league allowed clubs to do so last month.
The sponsor logos will be 2.25 inches by 3.75 inches in size, and have been introduced as a way of generating additional revenue as a result of losses during the COVID-19 pandemic.
Communications giant AT&T has been announced as the new helmet sponsor of the Dallas Stars, whilst the Pittsburgh Penguins and the Arizona Coyotes have paired with PPG and Mountain America Credit Union respectively.
Although most teams have chosen current partners as sponsors – many of which hold arena naming rights – the Detroit Red Wings has formed a new agreement with United Wholesale Mortgage (UMW), which will also serve as both the team and its venue's official mortgage provider.
Meanwhile Canadian clubs Toronto Maple Leafs and Calgary Flames have partnered up with Scotiabank, one of the country's largest international financial organisations, which also sponsors the arenas of both teams.
Although no official deals have been announced, fellow Canadian teams the Edmonton Oilers and Winnipeg Jets have been wearing the logos of their respective arena sponsors, Rogers and Bell, during training sessions.
Some teams have announced two different sponsors – the Columbus Blue Jackets will wear the logo of Ohio Health for home games and Nationwide for away fixtures. Likewise, the Florida Panthers has signed Ford as home sponsor and Baptist Health as the away game counterpart.
The ten outfits will join the Nashville Predators, New Jersey Devils and Washington Capitals in selling helmet sponsorships.
The aforementioned teams were the first to do so, shortly after the NHL made the decision in order to mitigate the impact that a lack of spectators has had on the sport.
The 2020/21 NHL season is set to kick off on 13 January, having been postponed due to the pandemic, and will also be shorter than usual season at 56 games.
Organisers are hopeful that spectators will be allowed to return to arenas 'at least in the initial part of the season', potentially generating some much needed fan revenue for the league and its franchises.