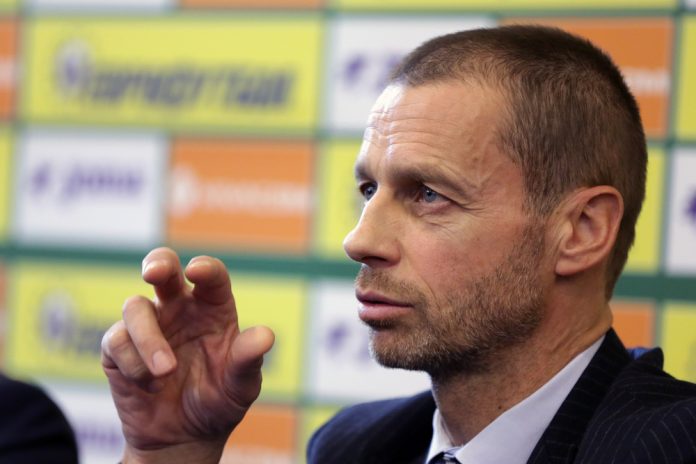 UEFA President, Aleksander Ceferin, has blasted the newly formed European Super League (ESL) as a 'spit in the face of all football lovers and our society'.
In his latest comments, the 53-year-old also hit out at Ed Woodward – who stepped away from his role at UEFA yesterday – and Andrea Agnelli, who will serve as Vice-Chairman of the new continental competition.
"[Agnelli is] probably one of the biggest disappointments, or the biggest disappointment of all," Ceferin said.
"I don't want to be too personal. But the fact is that I've never seen a person that would lie so many times, so persistently that he did was unbelievable.
"I spoke with him also on Saturday afternoon. He said, 'These are all only rumours. Don't worry, nothing is going on'. And then he said, 'I'll call you in one hour'. And he turned off the phone."
Yesterday, the new Super League Company (SLCo) announced it would be taking legal, 'protective steps' to ensure a 'seamless establishment', with the various footballing authorities threatening bans for players and clubs who sign up to the breakaway tournament.
Penning a letter to FIFA and UEFA – which was published by the PA news agency – the Super League wrote: "We are concerned that FIFA and UEFA may respond to this invitation letter by seeking to take punitive measures to exclude any participating club or player from their respective competitions.
"We hope that is not your response to this letter and that, like us, your organisations will recognise the immediate benefits of the competition established by SLCo.
"We also seek your co-operation and support on how the competition can be brought within the football ecosystem and work with us to achieve that objective.
"Your formal statement does, however, compel us to take protective steps to secure ourselves against such an adverse reaction, which would not only jeopardise the funding commitment under the grant but, significantly, would be unlawful.
"For this reason, SLCo has filed a motion before the relevant courts in order to ensure the seamless establishment and operation of the competition in accordance with applicable laws."
According to Reuters, three of the teams involved in this season's Champions League could be kicked out of the competition, with UEFA committee member and head of the Danish FA, Jesper Moller, telling the news agency that Real Madrid, Manchester City and Chelsea all face expulsion from this season's semi-final ties.
The letter also added that SLCo had secured a commitment to underwrite the funding of around €4 billion, with American investment bank JP Morgan already confirmed as financier of the tournament.
Meanwhile, Culture Secretary Oliver Dowden has confirmed that DCMS will launch a 'fan-led inquiry' into whether English football is being run in the interest of its supporters and local communities.
Speaking at the Commons, he said: "It was a tone-deaf proposal, but the owners of those clubs won't have been able to ignore the near-universal roar of outrage from all parts of the football community over the past 24 hours… The move goes against the very spirit of the game."
Former Sports Secretary Tracey Crouch has also been named as the minister who will lead the review, which Dowden stated would be a 'root-and-branch examination of football in this country'.