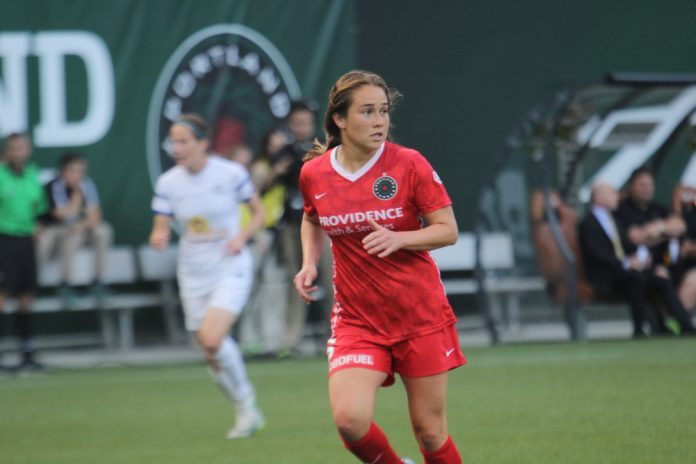 The National Women's Soccer League (NWSL) has enlisted Mastercard as the North American football division's official partner, strengthening the brand's commitment to growing the sport.
As part of the collaboration, Mastercard will begin rolling out 'priceless' experiences both virtually and in-person, including the VIP Game Day Experience which is now live on Priceless.com.
The VIP Game Day Experience will give fans the opportunity to watch their favourite team at a regular season match, with the supporter and three guests receiving a VIP game day experience for the NWSL team of their choice to enjoy pre-game warm-ups, premium seats, prepaid Mastercard for food and beverage.
"We are excited to welcome Mastercard as one of our Top Tier Partners, a brand with a storied history of creating priceless fan experiences," commented NWSL Commissioner, Lisa Baird. "We have the best fans out there. Their commitment to the sport is unrivaled. They deserve to have an experience on par with any major sports league, and that time has arrived.
"The planned Mastercard activations have the power to unite and energise not only our current fan base, but to bring even more fans in, truly benefitting our players and women's soccer overall."
Furthermore, Mastercard will create a football-themed curriculum for its signature science, technology, engineering and mathematics (STEM) program, Girls4Tech.
The financial services firm will also dedicate time and resources to educating players on their own financial wellness, better enabling them to 'pursue opportunities that will bring more ubiquity to sports across gender'.
"Growing passions and fostering connections is core to what Mastercard stands for," added Raja Rajamannar, Chief Marketing and Communications Officer, Mastercard. "We are honoured to support the very passionate NWSL fan base. Together with the league, we look forward to elevating their game day experiences all season long, bringing fans closer to what they love."
Mastercard has already linked with a number of female athletes including Naomi Osaka, Kadeisha Buchanan, Pernille Harder, Ada Hegerberg, Sam Kerr, Saki Kumagai, Wendie Renard, Alex Scott, Brooke Henderson, Annika Sorenstam, Chanel Alberts and Piwokuhle Nyanda.
The brand maintains agreements with Arsenal WFC, CBF Women's team, Olympique Lyonnais Féminin, Copa America Women, The Australian Open and The AIG Women's Open.
Under the terms of the latest deal, NWSL star Crystal Dunn will also join the growing roster of Mastercard global ambassadors.
Dunn said: "I'm thrilled to be a global ambassador for Mastercard. Our values are aligned in connection, diversity and inclusion. I am confident that together we will build priceless opportunities for women's soccer fans and players across the country."