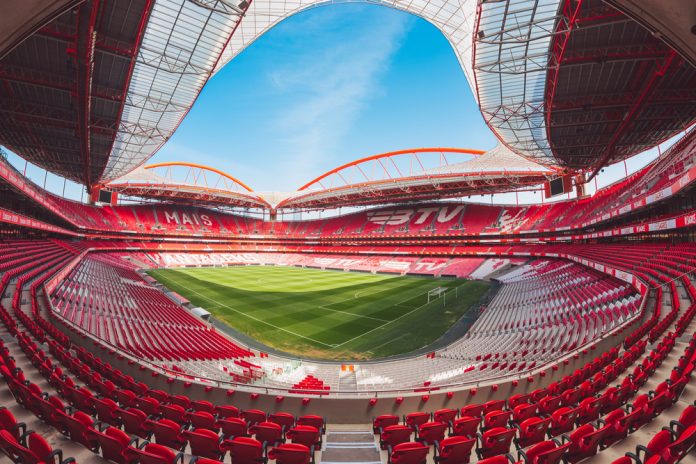 SL Benfica has become the latest Portuguese sports organisation to partner with a sports betting company, striking a deal with Betano.
Under the terms of the three-year contract, the Kaizen Gaming sports wagering brand will become the Primeira Liga team's first ever sleeve partner, gaining brand exposure in both domestic and European fixtures.
Furthermore, the operator will be able to take advantage of a ground signet as well as a digital assets and activations package across the Lisbon-based club's digital channels.
Domingos Soares de Oliveira, Benfica CEO, said: "This is a partnership with great dimension for the club, with a brand that is well established in sports and entertainment. Betano stands out for its innovation, especially on digital platforms, something with which we identify ourselves."
Portuguese sports teams are becoming increasingly receptive to partnerships with sports betting brands, with the Betano deal closely following the naming rights agreement signed between Liga Portugal and bwin last week.
Meanwhile, it was also announced today that the Portuguese Basketball Federation would be partnering with French operator Betclic, with the Portuguese Basketball League renamed the Betclic league under the terms of the three-year deal.
The agreement strengthens Betclic's branding in the Portuguese market, building on a marketing campaign initiated prior to the UEFA 2020 European Championship which featured national team captain Cristiano Ronaldo's famous ndar bater, tu bates bem – 'Come here, You Knock it Well' matchday war cry.
Commenting on his company's agreement with Benfica, George Daskalakis, Kaizen Gaming CEO, said: "Through Betano, Benfica fans will be able to engage with their favorite team at a new level. We are excited to begin working with this great club and its people, together with whom we aim to undertake common social initiatives like we do with every team we partner with.
"This sponsorship clearly highlights our strong commitment to the Portuguese market, a commitment that we are determined to continue showing via our sustained support to Portuguese sports and society."