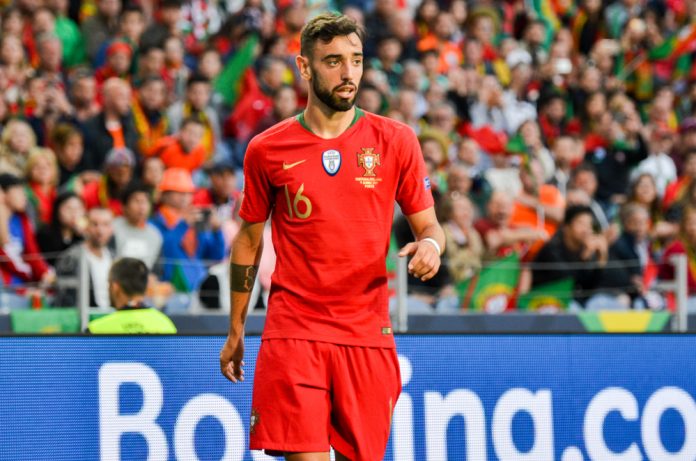 Portuguese fantasy football start-up RealFevr has generated $1.5 million through the sale of Non-Fungible Tokens (NFTs) featuring a range of famous professional footballers. 
Football players included in the firm's 'first edition drop' include Portugal's Cristiano Ronaldo of Juventus, Diogo Jota Of Liverpool and Bruno Fernandes of Liverpool, the latter of whom has been outlined as the 'highlight' of the release.
The Red Devils midfielder was featured on an exclusive NFT depicting his celebration after scoring a goal for Sporting CP during the 2017/2018 season, and the launch coincided with his performance in the Manchester United vs Leeds United clash as he bagged an opening day hat trick
RealFevr made the packs available to consumers on 12 August, selling 75,000 within 24 hours. The company has plans to release a second round of products, including one NFT featuring Ronaldo's first goal as a professional player whilst at Sporting CP in the early 2000s.
"It is clear proof that Portuguese companies can compete internationally at the highest level and with impressive results," explained Fred Antunes, RealFevr CEO, who described the deal as a 'historic moment' both for the company and for Portugal.
"It is an honor to lead this team and we are not done yet. This is just one step on the long road we have envisioned and that motivates us to keep working hard."
RealFevr facilitated the sale of the NFT packs via its $FEVR cryptocurrency token, first launched on global crypto 'launchpad' Polkastarter on 8 July with an initial price of $0.0006, and has experienced growth of over 1,600% to $0.01 to reach a market capitalisation of over $20 million.
The firm's digital products were made available across three categories – Basic, Rare and Super Rare – selling 5,000 Super Rare packs and 15,000 rare packs for a total of $1 million, with the remaining $500,000 made through the sale of around 55,000 Basic releases.
NFTs are becoming increasingly popular as a means for sports organisations to conduct fan engagement activities with their supporters through the use of unique digital souvenirs.
The Portuguese Football Federation (FPF) recently linked with Chilz – an organisation which has partnered with multiple football teams to date – to explore the possibility of launching NFTs on the Socios.com platform.
Additionally, both the Premier League and the French Football Federation (FFF) have evaluated their prospects of launching in the market, with the latter entering into negotiations with Sorare.
Outside of football, former professional boxer and current promoter Floyd Mayweather Jr has also released his own range of NFTs, whilst research by TickPick has found that one in 10 sports fans purchased the digital collectibles during the COVID-19 pandemic.