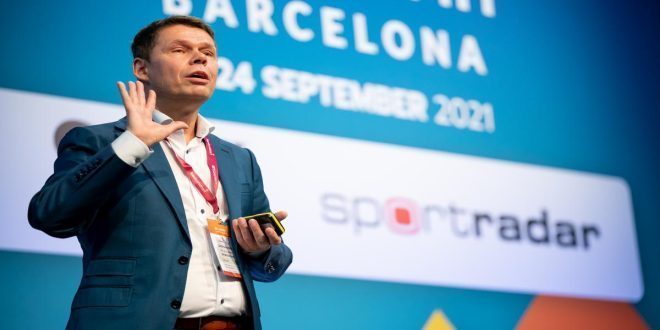 Carsten Koerl, CEO of Sportradar, has lauded his company's position 'at the centre' of the global sports, media and betting sectors.
The Chief Executive made the remarks whilst receiving the Entrepreneur of the Year Award in the "Service & Commerce" category, bestowed upon 'exceptional entrepreneurs' by auditing and accounting firm EY.
In its assessment of the Swiss businessman, EY's independent jury noted his 'entrepreneurial spirit', along with other 'core competencies and attributes' including spirit, purpose, growth and impact.
"I am incredibly honoured to win this prestigious award," Koerl remarked.
"I celebrate this accomplishment with the entire team. I am proud that we are recognized for the impact that our innovative and visionary technology products have on the sports ecosystem.
"But we are just at the beginning of our journey as the sports, media and betting industries converge with Sportradar at the centre of this massive market."
Koerl has held the leadership position at Sportradar since the sportstech firm's founding in Gailen, Switzerland in 2001, overseeing periods of rapid expansion in the years since.
Sportradar's commercial journey has seen the company sign data distribution and integrity partnerships with a wide range of sports clubs in both its founding continent of Europe as well as the new worlds of North and South America.
This has included the likes of the International Cricket Council (ICC) and German Bundesliga in the former of the NBA and NHL in the latter – the firm's North American ambitions were fully realised in late 2021, when it secured a listing on the New York Nasdaq. 
The company now has 1,700 clients in over 120 companies and an employee base of 3,500, fronted by an 'experienced, customer-centric leadership team'.
Moving forward, the firm states that Koerl 'remains fully invested' in Sportradar's continued growth, with plans to develop new products and capture growth opportunities.
Speaking to SBC News following Sportradar's Q2 financial results earlier this year, Koerl outlined the future vision, particularly regarding the US market, where he argued increased availability of sports betting has had an impact on media, advertising and sports teams and leagues.
"These different segments are all touching our business – so if we continue to see a positive impact from the roll out of sports betting, then that growth will continue," he explained.