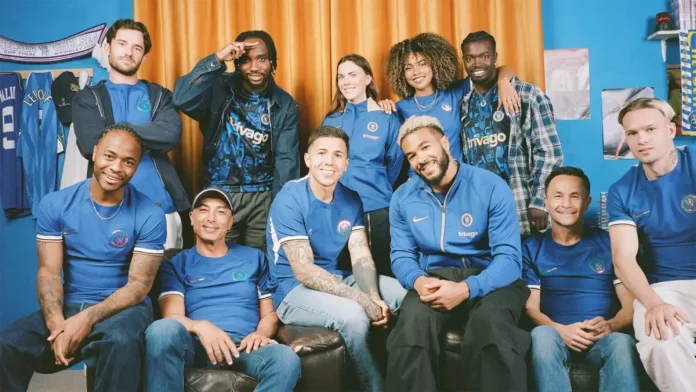 After weeks of searching for a new front-of-shirt sponsor, Chelsea FC unveiled a new home shirt for the 2023-24 Premier League without a sponsor.
The five-time Premier League champions' three-year deal with mobile network Three expired this summer, with the club revealing they are still in the market for a partner.
A Chelsea statement read: "Fans should be aware that the 2023/24 home kit that features on pitch may subsequently feature a front-of-shirt partner. The club will communicate any changes to the kit in due course."
It was widely reported that the club was on the verge of agreeing a sponsorship deal with online casino Stake.com, rumoured to be offering £40m-a-year. This however was met with backlash from fans and talks were subsequently ended.
The news of the reported Stake deal also came during a jarring time for gambling-football sponsorship, as Premier League clubs agreed last April to ban all front-of-shirt sponsorships brandishing a gambling company on league kits from 2026 onwards.
Stake were not the only company discussing a sponsorship deal with Chelsea however, as Paramount+ was on the verge of agreeing a deal until the Premier League blocked it citing conflicting issues with some of its broadcast rights holders under the Deed of License.
The continuation of a front-of-shirt sponsor search has not been ideal for Chelsea, nor is it usual for a 'Big Six' club to head into a new season so soon without a shirt sponsor.
Since taking over the club in May 2022, owner Todd Boehly has made significant changes, such as a squad overhaul in the space of a year, spending up to £600m on new players as well as making changes to the boardroom staff, with the search for a new sponsor this summer no less.
Whilst the Daily Mail reported that any new shirt sponsorship deal may now fall into the £25m-a-year ballpark, SBC Director of Sponsorship, George Harborne, acknowledged that the club's long drawn out process to find one has weakened their negotiating power.
He said: "The pretty short changeover of both Commercial Director and Chief Executive at the club in the last 12 months is sure to have impacted their sales process.
"It is unheard of that a top-six side would still be in the market for their main partner only weeks away from the new season kicking off, dramatically reducing the strength of the negotiating position that the club has – so a short-term deal could be their only solution."