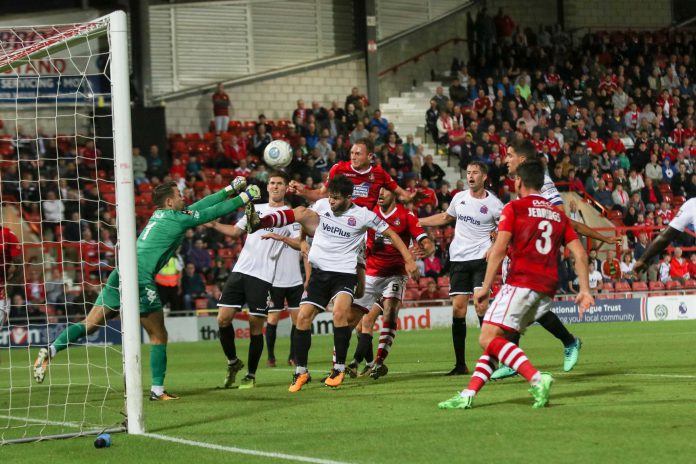 Vanarama is spearheading a campaign, which has already received the backing of a number of clubs and the former FA Chairman David Bernstein, to get the National League featured in FIFA 20.
We spoke to Daryl West Head of Social Media & Sponsorship at Vanarama about the campaign and how it started, as well as why the addition of the league can enrich the offering of the game and elevate the exposure of the beloved English non-league.
InsiderSport: Can you tell us more about how this campaign started?
Daryl West: "This campaign was inspired by the previous efforts of non-league fans who for years have been trying to get their beloved teams on each instalment of FIFA. They've tweeted year in year out and some have even set up their own petitions in the past.
With all previous efforts falling on deaf ears, and as title sponsor of The National League, we wanted to stand up for those loyal supporters and get the fifth tier of English football in the game."
InsiderSport: How much could the potential inclusion of the National League help grow and extend the fanbase of grassroots football?
Daryl West: "This could have an enormous impact on extending the fanbase of grassroots football. There's always  that one team on FIFA that we all love playing with and then you find yourself looking out for their results, before you know it you've become a mini fan. There's no reason why Sutton United can't become 'that' team for people next year.
The FIFA community is huge on social media, so it's obvious that clubs of  the National League would gain huge amounts of online exposure. This is an area where many of them still haven't been able to achieve cut through so it could really help open up the clubs to a whole new crop of potential fans."
InsiderSport: Could being included in FIFA 20 help boost the sponsorship footprint globally for the  National League and its teams?
Daryl West: "Inclusion in FIFA will give the clubs a larger digital and social footprint which will in turn get more people talking about them and could potentially lead to more global sponsorship and partnership opportunities.
You only have to look at some of the in game advertising on previous FIFA games to see how brands try and utilise those clubs and leagues – and how in turn those clubs have benefited financially."
InsiderSport: In what ways could the inclusion of the National League in FIFA 20 help sides boost their revenue?
Daryl West: "Firstly EA Sports would have to buy the rights for The National League's inclusion and so that in itself would commercially benefit both the league and the clubs. Greater global exposure means sponsorship deals and brand partnerships become more likely and anything from tickets sales to shirt sales could start to soar."
InsiderSport: Do you think the addition of the National League to FIFA 20 will add an extra level to the game's offering?
Daryl West: "Absolutely. Who doesn't want the chance to turn Havant & Waterlooville into the next European giant of football? The FA Cup would be more realistic and who knows, the next Jamie Vardy could be found on FIFA 20… Get us in the game!"