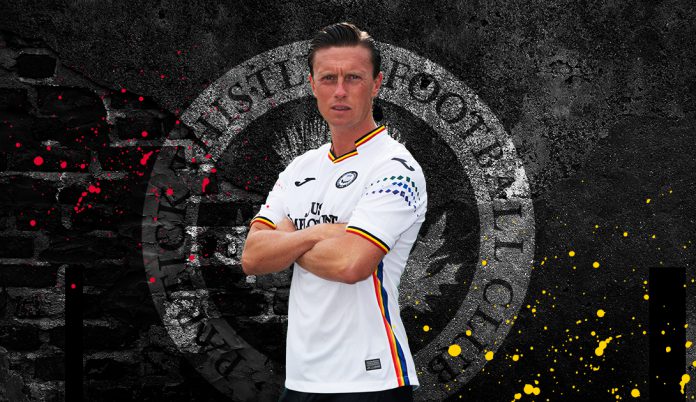 Former Scottish international striker Frank McAvennie's recent comments regarding the launch of a Gay Pride-themed Partick Thistle kit have raised a few questions over whether making a politically-loaded statement with a team's apparel will alienate the core fanbase.
In what many believe to be an admirably progressive and inclusive move by the Scottish Championship side, Partick Thistle have added a rainbow trim to the sleeves of the white away jersey as well as including larger rainbow stripes down the sides of the kit.
Writing in his regular column for the Scottish Sun, McAvennie argued that "punters don't like having things like this rammed down their throats" and that including the gay pride flag will trigger what he believes to be a commercial backlash from core Partick Thistle fans.
McAvvenie goes on to argue that parents may object to purchasing the kit for young children at the risk of bullying, and that the Glasgow club are scoring an own-goal by launching the kit.
He added: "Time will tell but I reckon Partick Thistle have scored a needless own goal by adding two bright bands of rainbow colours to their new away strip in a nod to the LGBT community
"Not because I don't believe in the sentiment, which is excellent. LGBT people continue to face discrimination and bullying and anything that raises awareness of the garbage they still have to put up with should be applauded.
"But I'm just not sure the platform, in this case, is the right one."
On launching the new kits Chief Executive, Gerry Britton, emphasised that the new kit promotes an inclusive, tolerant community that the club promotes. He commented: "We are really pleased with how the strips look and hope the supporters will like them as much as we do.
"We were very clear when putting together the design, that we wanted to make a statement about inclusivity and that's what inspired the rainbow feature on the away shirt.
"Partick Thistle is one Club open to all, we will not accept discrimination in any form and I sincerely hope that this shows that. Football can be such a wonderful universal language that can help bridge all sorts of divides, both large and small.
"As a Club, if we can use this sport that we all love to make all of our supporters feel welcome, even if that is through something as simple as a band of colour on a shirt, then it's a simple decision."
Manchester-based Stalybridge Celtic have previously launched what was considered to be a kit tailored towards the team's large Glasgow fan base, offering a nod towards the Glasgow Celtic colours.
The kit was extremely popular among fans, which goes to show that developing a themed kit may work as an advantage for Partick Thistle.
The new away kit Love it. Well played @sydwhite5897 pic.twitter.com/CW4TXxHvi2

— Stalybridge Celtic (@StalyCelticFC) July 23, 2016
Launching a kit which offers a nod towards the LGBTQ+ movement may prove a success for the Scottish team, with the true impact to be seen in the coming months.