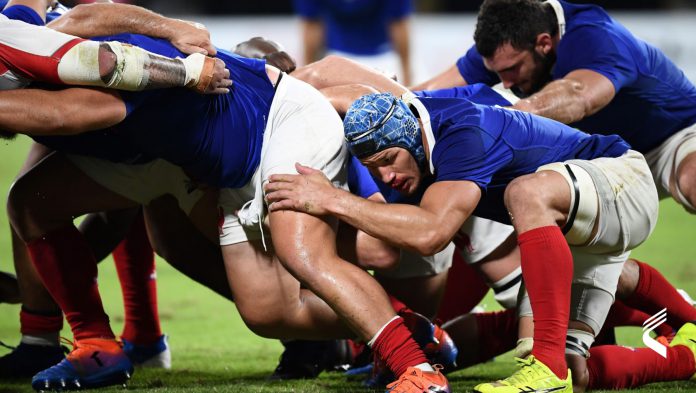 Catapult is seeking to deepen the use of data in rugby, with the launch of its all-new Rugby Suite, a unique set of algorithms engineered to identify and measure key technical and physical events specific to rugby union.
Developed in collaboration with Saracens, Scottish Rugby Union, Fédération Française de Rugby and Wales Rugby, the Rugby Suite is designed to better quantify the demands of rugby union. Improving on existing metrics and introducing new ones, the Rugby Suite delivers unique insights and informs crucial coaching decisions around load management.
By leveraging the inertial sensors within Catapult's Vector S7 and OptimEye S5 devices, the Rugby Suite's algorithms automatically detect scrums, kicks and contact involvements. This information can be used to build a detailed picture of the physical demands placed on rugby players.
Tom Sherriff, Sport Scientist at reigning English and European champions Saracens commented: "The Rugby Suite represents a major step forward in the field of rugby analytics. Working closely with Catapult, we realised that there was scope to refine existing rugby metrics and more effectively assess the work performed by the athletes–particularly forwards who have been under-served by past measures. I'm confident that this new set of metrics will offer an improved assessment of rugby performance and support coaches with a range of innovative new insights."
In addition to detecting scrum, kick and contact instances, the Rugby Suite measures contact involvement duration (i.e. 'time to feet') and delivers a unique wearable metric known as Back In Game (BIG) Time. This metric has the potential to provide important insights about player fatigue levels and intent when returning to the defensive or offensive line.
Data from the Rugby Suite can be integrated with the Catapult Vision video platform to provide additional layers of context. When presented alongside match or training footage, the information from the Rugby Suite can become a valuable step in the video analysis workflow and can offer fresh perspectives on team and player performance.
Insider Insight: This innovative launch underlines that data is not only for content and fan engagement but plays a major in helping the sporting performance of clubs and players. 
Furthermore, as the schedule and requirements of players continues to grow the innovations of Catapult, not only in rugby but in other sports as well increased analytics and data will play a key role in sustainability, injury prevention and maximising player performance.