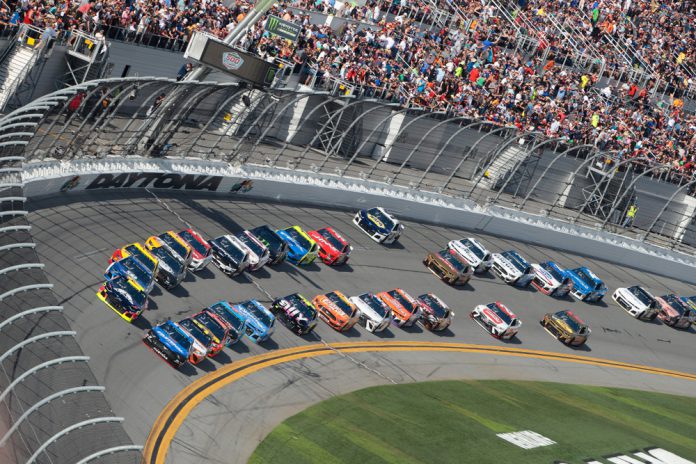 After more than two months on the virtual track, NASCAR has revealed that it will begin racing on May 17 with seven races over 11 days.
The 11 day event, which will be broadcasted on FOX and FS1, features NASCAR Cup races alongside the Xfinity Series and the Gander Trucks Series. The organisers also confirmed that the races will be held in two venues, the Darlington and Charlotte Motor Speedway.
In order to comply with public health authorities all of the races will be held behind-closed doors. Moreover NASCAR has liaised with medical experts and local, state and federal officials to create a 'comprehensive plan' to ensure that the health and safety of its competitors and staff are prioritised. 
Steve O'Donnell, NASCAR's executive vice president and chief racing development officer stated: "NASCAR and its teams are eager and excited to return to racing, and have great respect for the responsibility that comes with a return to competition.
"NASCAR will return in an environment that will ensure the safety of our competitors, officials and all those in the local community. We thank local, state and federal officials and medical experts, as well as everyone in the industry, for the unprecedented support in our return to racing, and we look forward to joining our passionate fans in watching cars return to the track."
The schedule includes the Coca-Cola 600, which will be raced on Memorial Day Weekend for the 60th consecutive season. However, the race will be the only track that will feature qualifying with all other series not having practice sessions in order to abide with specific guidelines set by the Centers for Disease Control and Prevention.
Other adjustments being made to ensure that the races don't compromise staff and competitor safety includes mandating the use of protective equipment and health screenings for all individuals before entering the facility. Moreover, social distancing protocols will be in effect throughout the event.

NASCAR has yet to announce plans after May 27, however the organisers have always insisted that it intends to run a full 36-race NASCAR Cup Series in 2020.