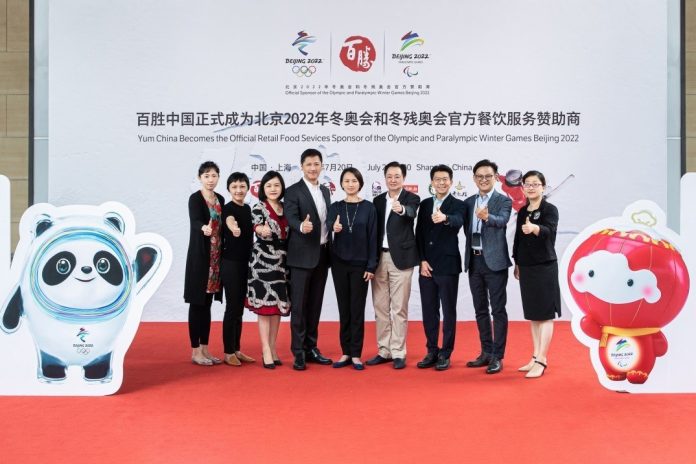 The 2022 Olympic and Paralympic Winter Games in Beijing continues to develop its partnership portfolio after securing Yum China Holdings as the competition's official retail food services sponsor.
As the Olympic and Paralympic sponsor Yum China, which operates some of the country's leading restaurant concepts, will provide food services for the Winter Olympics. This includes brands such as KFC, Pizza Hut and Taco Bell among others being on site at Beijing 2022 venues providing food and refreshment for visitors and athletes from around the world.

"We are honoured to support the Beijing 2022 Olympic and Paralympic Winter Games as an official sponsor," commented Joey Wat, CEO of Yum China.

"At Yum China, we are committed to leveraging our brand influence, strong offline and online network, as well as over 250 million members to promote the Olympic values of Excellence, Respect and Friendship. Building on our established connection with young people, we hope to inspire and motivate increased participation in winter sports, and contribute to bringing the Olympic spirit to life."

Due to Yum China's agreement the company has also gained a variety of sponsorship rights which allows the firm to use the Olympic marks and imagery of the Beijing 2022 Winter Olympics, for advertising and promotional purposes. According to the Shanghai-based company, it plans to launch a series of 'Olympic-themed marketing campaigns' in order to promote the upcoming events.
Moreover, the Chinese Olympic Committee has also been included in the deal with Yum China becoming an official sponsor of the organisation until 2024. The firm is also able to use the Chinese Olympic Committee's logo to advertise and promote its brand.
This is not the first time Yum China has been involved with sport in the country after previously sponsoring the 2019 Tennis Masters along with various basketball competitions and city marathons.