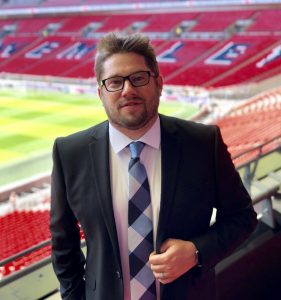 The lockdown period has seen a surge in interest in esports, exemplified by the record-breaking FIFA 21 Challenge tournament. 
Brent Koning, EA Sports' FIFA Commissioner, spoke to Insider Sport about how the video game developer has caught the attention of sports fans around the world and how esports organisations will retain their interest. 
IS: First of all, we have to mention that the FIFA 21 Challenge event in October was a huge success in terms of viewing figures and, of course, the donation made to charity. What aspect(s) of the tournament made it so popular, in your opinion?

BK: In addition to creating top-tier competitive tournaments and experiences for our fans, we set out to incorporate more celebrity and professional athlete participation and look at esports through the lens of entertainment to engage non-traditional gaming audiences.
Our goal is to make competitive gaming more accessible to everyone, and the success of FIFA 21 Challenge was a testament to that. It also validated that there is an appetite for this hybridised content that infuses elements of football culture and challenges the traditional definition of esports.
IS: There were a handful of professional football players from top flight clubs such as Liverpool, West Ham, Inter Milan and Borussia Dortmund involved in the esports competition. How did you entice them on board and do you think combining esports with football is an effective partnership?
BK: It's a mutually beneficial partnership that can help enrich the football fan experience as well as expand the competitive gaming audience. With traditional sports fans aging up, football clubs and players get authentic exposure with a younger, digitally native audience, linking them to top FIFA competitors and esports organizations. Plus, traditional sports fans get more ways to watch and engage with their favourite footballers.
On the other hand, FIFA competitive gaming fans can tune into a unique competition which stays true to the essence of esports but adds a new twist on it. It's a careful balance, but when done correctly, like in the FIFA 21 Challenge, is able to deepen affinity for football and vastly broaden the audience for esports and gaming content.
IS: Particularly during the pandemic and the quarantine periods, a large percentage of sports fans have turned to FIFA in the absence of football, for example. Why do you think this is? And do you think companies have taken advantage of this enough in preparation for when spectators are allowed back into sporting venues? 
BK: More so now than ever, sports fans are hungry for content. The pandemic has challenged every industry to work within a new digital framework, and with that has come great innovation, especially at the intersection of traditional sports and esports.
While this year has driven this area of esports forward, we are still very early in our exploration of how these two worlds can and will intersect – there's a lot of ground left to be covered, but the sky is truly the limit.
The biggest differentiator for us is the accessibility of FIFA – because so many people universally know and understand the rules of football, it makes for a natural transition as a viewer. Because of this, we're able to take well-known players from international clubs and tap a much larger audience in a completely fresh format. It elevates the esports viewing experience and gives traditional football fans a unique and intimate look at their favorite players while off the pitch.
If you look at our most popular game titles, like FIFA, it makes sense for us at EA to be creating these types of content and experiences for our fans. We're proud to be blazing our own trail and pushing the boundaries of what esports can look like.
IS: How can you activate that relationship between traditional football and esports? Moreover, how do you attract and retain fans used to attending games and participating in team activities, but who have not yet entered the online world?
BK: You deepen the relationship between traditional football and esports by creating meaningful content and engaging experiences that resonates with both audiences. If someone tunes in to watch one of our broadcasts that normally wouldn't, whether because of our celebrity participants or unique competitive format, then that's a meaningful win for FIFA esports. 
We've found that more people tend to play FIFA after watching a tournament. So if we're able to drive play time and provide fulfilling content that appeals to both fan bases then I'd say that's a good way to grow the overall ecosystem and create more engaged fans. 
IS: Additionally, how have you worked on expanding the FIFA esports ecosystem to reach new audiences? 
BK: In addition to our traditional esports offerings throughout the FIFA Global Series, we're attracting more mainstream audiences by incorporating elements which speak to fans of football, entertainment, and music. 
With this strategy, not only are we elevating the experience for existing FIFA esports fans, but we're giving those who might not normally tune into esports competitions a reason to watch and get acquainted with our world. We're essentially creating can't miss pop culture moments for a variety of audiences.
We're also shortening the length of some of our broadcasts to make them more digestible for the average consumer. Outside of the world of esports, many fans aren't accustomed to watching multi-day tournaments that take place over eight hours each day. Through these unique crossovers and shorter formats, we've seen more people become interested in FIFA competitive gaming content. 
IS: Do you have any plans at EA Sports to host any similar FIFA-based events in the near future at all to achieve this?
BK: We absolutely plan to host more of these tournaments and will introduce even more entertainment-focused events in the coming year. Be sure to stay tuned for more details!