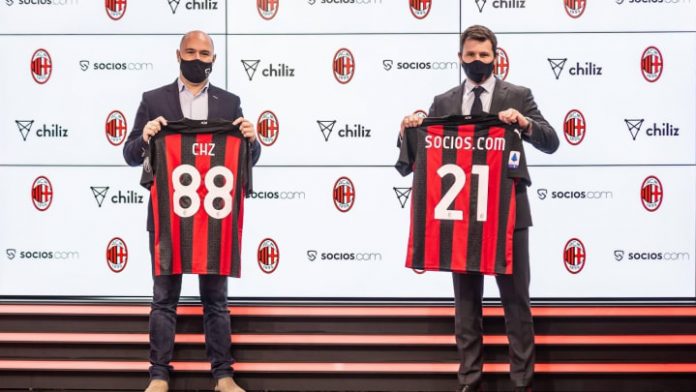 AC Milan has strengthened its fan engagement capabilities through a new partnership with blockchain site Socios.com.
The agreement has seen the Italian football giants release a $ACM Fan Token, which grants its owners access to a range of benefits, including the right to vote in club decisions each season, VIP rewards and experiences, exclusive club and sponsor promotions, games, competitions and 'super-fan' recognition.
Other notable football clubs to have used Socios.com for fan engagement include FC Barcelona, Paris Saint-Germain, Atlético Madrid, AS Roman, Galatasaray and Trabzonspor. 
Furthermore, the Tokens have been utilised for fan engagement by esports platforms Team Heretics, NAVI, OG and Alliance, as well as by MMA promotion organisation UFC.
Notable instances of fan engagement include Juventus fans choice of goal celebration song, FC Barcelona's unique supporter designed artwork for the Camp Nou dressing room and a question and answer session between AS Roma fans and club head coach Paolo Fonseca.
Casper Stylsvig, Chief Revenue Officer of AC Milan, said: "We are happy to join hands with Socios.com and welcome them to our family as a global partner. 
"This partnership allows us to give our 450 million fans across the world another exciting way to interact with AC Milan, which is particularly important under the current circumstances created by the Covid-19 pandemic.
"As an innovative Club, one of our focus areas is modernization and this partnership helps us complete another important step in that direction."
Socios.com, powered by utility token Chillz, has generated over $30M USD for clubs and partners in just over a year via the use of Fan Tokens. In late December and early January several Fan Tokens were listed on major global exchanges, with $PSG and $JUV trading volumes hitting a 24 hour high of $300 million in late December.
The service has been downloaded by more than 450,000 in just one year in addition to selling over 14 million Fan Tokens and registering 700,000 votes.
"I'm delighted to welcome AC Milan and their 450 million fans from across the world to Socios.com," remarked Alexandre Dreyfus, CEO and Founder of Chillz and Socios.com.
"Fans of the I Rossoneri will be able to enjoy unprecedented engagement with their favourite team, influencing the club in polls, accessing VIP rewards, exclusive promotions, chat forums and much more.
"The AC Milan partnership is a great start to a year in which we will work harder than ever on our mission to fully establish Fan Tokens as the ultimate fan engagement tool and as a powerful new revenue generator for the sports industry."