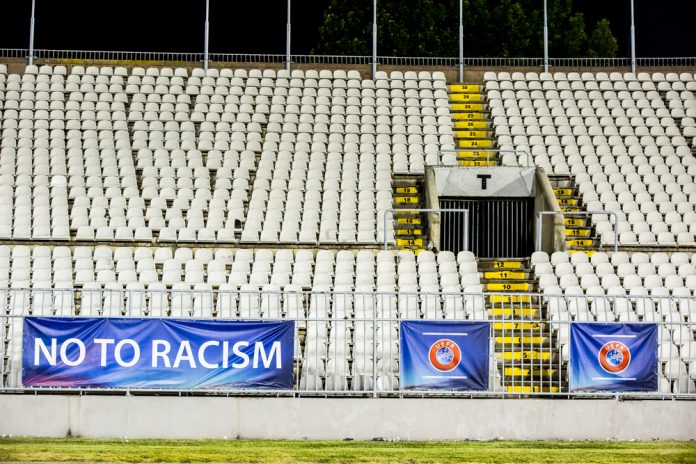 Sports clubs, authorities, broadcasters, publishers and athletes are set to participate in a global social media blackout – a campaign against online abuse and racism – later today, with UEFA becoming the latest organisation to join the protest.
Launched as a joint campaign between the FA, Premier League, EFL, FA Women's Super League, FA Women's Championship, PFA, LMA, PGMOL, Kick It Out and the FSA, the '#NoRoomForRacism' blackout now has the support of governing bodies across a number of sports.
The England and Wales Cricket Board, the Professional Cricketers' Association, Premiership Rugby, the Rugby Football League, the Lawn Tennis Association, the British Basketball League, the Women's British Basketball League and the British Horseracing Authority are among some of the organisations also taking part.
UEFA President Aleksander Ceferin explained: "There have been abuses both on the pitch and on social media. This is unacceptable and needs to be stopped, with the help of the public and legislative authorities and the social media giants," he said in a statement.
"Allowing a culture of hatred to grow with impunity is dangerous, very dangerous, not only for football, but for society as a whole. We've had enough of these cowards who hide behind their anonymity to spew out their noxious ideologies."
Global sports boycotts of social media will begin on 3pm Friday 30 April and end on 12:00 pm Monday 3 May, with stakeholders posting no content or updates and suspending the use of Facebook, Twitter, Instagram, Linkedin, YouTube, Snapchat and TikTok platforms.
Broadcasters such as Sky Sports, BT Sport and talkSport will join the social media blackout, whilst Premier League sponsors Nike, Budweiser, EA Sports and Barclays have also announced their intention to support the league. 
A joint statement released by the football organisations last week read: "As a collective, the game recognises the considerable reach and value of social media to our sport. The connectivity and access to supporters who are at the heart of football remains vital.
"However, the boycott shows English football coming together to emphasise that social media companies must do more to eradicate online hate, while highlighting the importance of educating people in the ongoing fight against discrimination."
It continued: "Finally, while football takes a stand, we urge the UK Government to ensure its Online Safety Bill will bring in strong legislation to make social media companies more accountable for what happens on their platforms, as discussed at the DCMS Online Abuse roundtable earlier this week."
Most recently, Arsenal icon Thierry Henry stepped away from social media to protest against racism behaviour, prompting global footballing authorities to take action.
A study conducted by Manchester United highlighted the growing scale of the online abuse directed at its players, demonstrating a 350% increase in abuse directed towards the club's players.
Furthermore, it added that 86% of these posts were racist, while 8% were homophobic or transphobic, and this activity peaked in January 2021 with over 400 abusive player posts recorded.