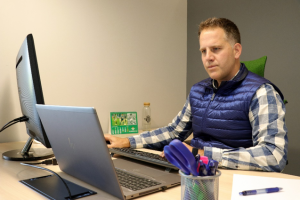 Over the course of 2020/21, Real Betis has been using Stats Perform's ProVision platform to support its performance analysis and scouting operations. The club's Head of Data Analysis, Alvaro Arranz, explained how the club is working with data to influence key decisions across different departments.
Since its return to the top-flight five years ago, Real Betis have established a well-earned reputation as one of Spain's leading proponents of patient, possession-orientated football. 
This philosophy has been evident throughout the 2020/21 season under Manuel Pellegrini, who entering the final weeks of the campaign, has steered the club into a position to challenge for a top six finish. Pellegrini's appointment last July was quickly followed by the arrival of Antonio Cordon, who was appointed Sport Director on a long-term contract. 
As the pair look to lay foundations to help Betis sustain its level of performance around the upper reaches of La Liga, the club is increasingly looking towards cutting-edge technology and data to support its key performance operations, including the identification of underlying insights on opponents and potential transfer targets.
At the heart of this initiative is Betis' Department of Data Analysis and New Sporting Technologies, which is headed up by Data Scientist, Alvaro Arranz.
Now in his third year with the club, Arranz provided an insight into how his department currently supports the various sporting operations across the club: "The main role of our department is the contribution of objectivity through data analysis.
"With the arrival of a new sports director and trainer, some routines have changed in our day-to-day work, but the philosophy and objectives set by the club continue to be followed. For our department, their arrival has been positive, because from the very start they have put their confidence in us and supported our work.
"That work facilitates the detection of performance trends using data. In this way we help the various sports departments make key decisions.
"In any club, both the subjective and the objective elements have to learn to coexist. It would be a mistake to make decisions only through intuition or only through data. I think there has to be a consensus on both sides.
"Through the work we're doing, we help the staff at the training ground to contrast the subjective information they generate every day. We can complement their information with the objective studies we carry out."
Applying advanced metrics to add value to analysis
The continuity advocated by the club's new leadership is also reflected in the club's performances on the pitch, which is backed up by Stats Perform's Qwinn insights. 
Using a Sequence Framework, we can establish that there has been very little fluctuation in the club's average number of passes per sequence, average sequence time and direct speed up field under Pellegrini, compared to the previous 2019/20 campaign, which reinforces how the club continue to be one of the most-possession orientated clubs in La Liga.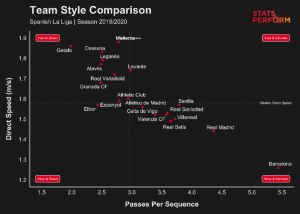 When it comes to analysing the strengths and weaknesses of each upcoming opponent, Arranz believes that advanced metrics and frameworks can play an important role – and feels that more of the technical staff within the club are now recognising their value in identifying underlying trends. 
He said: "For me, the most relevant metrics are those which can differentiate and add value to the analysis being carried out. Analysts across different clubs are not all looking for the same thing, so the most relevant metrics can vary in terms of adding value and context.  
"There are many advanced metrics such as expected goals (xG), expected assists (xA), and passes per defensive action (PPDA), which all provide a valuable reference point for the analysis you can carry out. 
"Little by little, coaches, sports directors and technical secretaries are familiarising themselves with these metrics and understanding their value. As a result it is becoming more and more common for them to be reaching out and asking for information relating to our work. This means that our analysis is becoming more relevant and having an impact." 
Engaging technical staff to influence match preparation
One of the tools that Arranz's department has been using this season to identify key performance insights has been Stats Perform's ProVision platform. Using ProVision, they have not only been able to use Opta data and advanced metrics to identify trends relating to the specific tactical approaches of each opponent and the players being scouted, but crucially can be backed up using a combination of video and engaging visualisations, to help communicate key messages. 
As explained by Arranz, having the ability to generate longer term trends from a consistent, reliable dataset is vitally important to positively influence decision-making and enhance match preparation.
"Provision is a great tool that allows us to undertake an in-depth examination of our analysis of teams and players, both using data and video," he pointed out. 
"In the analysis we carry out for the technical staff and the first team, Provision is helping us to contextualise the technical-tactical events of our team and of the rivals we play against. On the recruitment side, it allows us to analyse the patterns of play of teams on a global level, to identify players that could be of interest for our team.
"One of the main benefits is the reliability of the data we are supplied, which is integrated with video. Having the video helps us validate any metric or report we create in the platform, which helps gain trust and internal buy-in.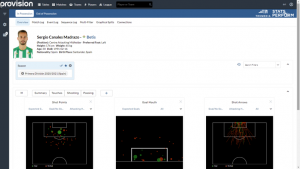 "Provision also gives you a large number of events and calculated metrics arising in all the competitive games played during the season. This information is identified on the playing field and is fully customisable for our users. It's allowing us to detect trends and key information with a fairly high level of granularity."
Looking ahead: increasing the influence of data 
As a club Betis has plans to build on its existing internal infrastructure to further increase its use of data, to make its decision-making process more objective as they continue to plan strategically for the future.
Considering the wider football industry as a whole, given the major advancements in the technology solutions now becoming available, driven by AI technology and machine learning, Arranz believes that the influence of data in key decision making at clubs is only going to increase as the decade progresses. 
"Innovations in our field are happening on an almost daily basis and data analysis is going to play a more leading role over the next few years, with more and more data being generated from major sporting events," added Arranz. 
"In the near future, data analysis and Big Data will become essential tools for clubs which will impact on their everyday activities. 
"From our own perspective, our club has always had a plan marked out in order to continue the growth of our data analysis department. Whilst we've had to revise this plan slightly in light of the pandemic, I'm sure that as soon as the situation normalises we'll be reinforcing our team so that we can extend our work to other areas of the club."
By possessing an integrated approach towards working with data, which is supported by a strong leadership team that is advocating the continuation of a long-term club philosophy, the future for Betis is looking bright on and off the pitch, as they look to further consolidate themselves as one of La Liga's most progressive-thinking clubs.