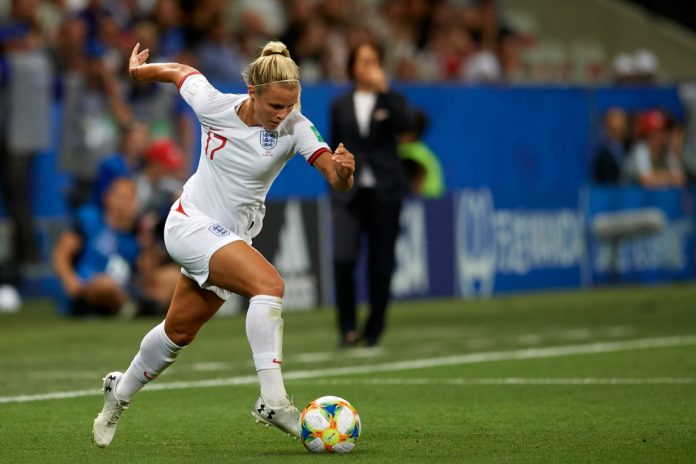 Audiences and consumers alike are taking more notice of women's football, and in doing so presenting key business opportunities, according to a new survey.
A study by Footy.com has shown that sports fans are becoming more and more engaged with the women's game off the back of the ongoing UEFA Women's Euro 2022 – particularly from a commercial and retail perspective.
Notably, 83% of surveyed fans said they 'would consider' buying a football shirt with a female player's name on the back, with an additional 84% stating that they would be more likely to make a purchase following the tournament.
Sam Patterson, Marketing Director at Footy.com, said: "There's been huge demand from football fans for women's football jerseys this summer, with many retailers even running low on stock.
"This just shows that women's football is having its moment off the pitch, just as much as it is on it. Seeing fans wearing their England jerseys with pride with names like Bronze, Hemp and Mead on the back really signifies a level of retail growth in the game we haven't seen before."
The increase in consumer interest in the sport is unsurprising when attendance levels and viewing figures are considered, and in the UK even less so when the roaring success of England's lionesses throughout the tournament is factored in.
A total of 68,781 fans attended England's opening 1-0 victory over Austria at Manchester United's Old Trafford stadium – a record for the sport – and turnout continued to remain high for subsequent fixtures in Southampton, Brighton and Sheffield.
Meanwhile, UEFA has since revealed that the competition has become the most watched in women's football history, with viewership increasing by 58%. This has been reflected in Footy.com's findings, with 91% of fans noting increased 'coverage and noise' around the tournament.
The site does not see engagement with the sport going away anytime soon, as although 62% of fans said that Euro 2022 was the first time they had watched womens' football, 91% said they would likely watch it again once the series has ended.
Lastly, the survey also showed that younger audiences are becoming particularly interested in the sport, with 67% of respondents who are parents and/or guardians stating that their children had requested women's football apparel.
"Women's football isn't going anywhere, it's only going to get bigger and this presents a real opportunity for retailers to capitalise," Patterson concluded.
Given England's success throughout the Euros, it is also unsurprising that the Lionesses have topped the leaderboard of both home and away shirt sales at 20%. Germany and Austria came in second and third place for home shirts at 15% and 9%, whilst France and Denmark secured these spots for away shirts at 9% each.
The Euros will come to a close this Sunday at London's Wembley stadium as England host Germany to try and claim their first major international trophy.
Insider Analysis: Women's football has been enjoying a meteoric rise in popularity, evidenced by the success of this year's Euros. With 88% of fans ignoring the site that increased availability of women's shirts has made them more likely to buy one, companies from a range of sectors could well benefit from watching this space for sponsorship and branding opportunities.