Despite a period of decline during the 2010s, AC Milan has once again found themselves at the top of Serie A and in the UEFA Champions League.
The seven-time European champions won the 2021-22 Scudetto for the first time in over ten years and under the new ownership of RedBird Capital, the Italian giants have been intent on growing its global fanbase, particularly in the US.
Speaking at the Soccerex Miami football conference, AC Milan Chief Marketing Officer, Tania Moreno, spoke at length on the club's ambitions in building a brand in the Americas and how RedBird's oversight has bolstered those ambitions.
Moreno said: "Firstly, we have an American ownership, RedBird Capital, and they have tremendous experience at a global level, operating at the intersection of sports, media, entertainment and culture. With their expertise, the club is now enjoying a new phase of growth on and off the pitch.
"This is why we are working with amazing partners, such as the New York Yankees, with whom we have formed an innovative partnership, which is quite unique as it puts together two of the most iconic sports brands in the world, whose influence goes beyond their respective playing fields.
"Our strategy in the US is already paying off, with AC Milan being the best-regarded Italian football club in the US according to international market research YouGov."
Much of Milan's success in recent years is due to its recruitment of younger talent, bringing in the likes of Rafael Leão, Theo Hernández and Mike Maignan to help them win the Serie A league title in 2022 and finish in the semi-finals of the UEFA Champions League last season.
However, the backroom staff have recently been signing American players, such as Chirstian Pulisic, Yunus Musah and Allyson Swaby, who despite being brought in initially for their talent, will also help boost fan support for Milan in the US further.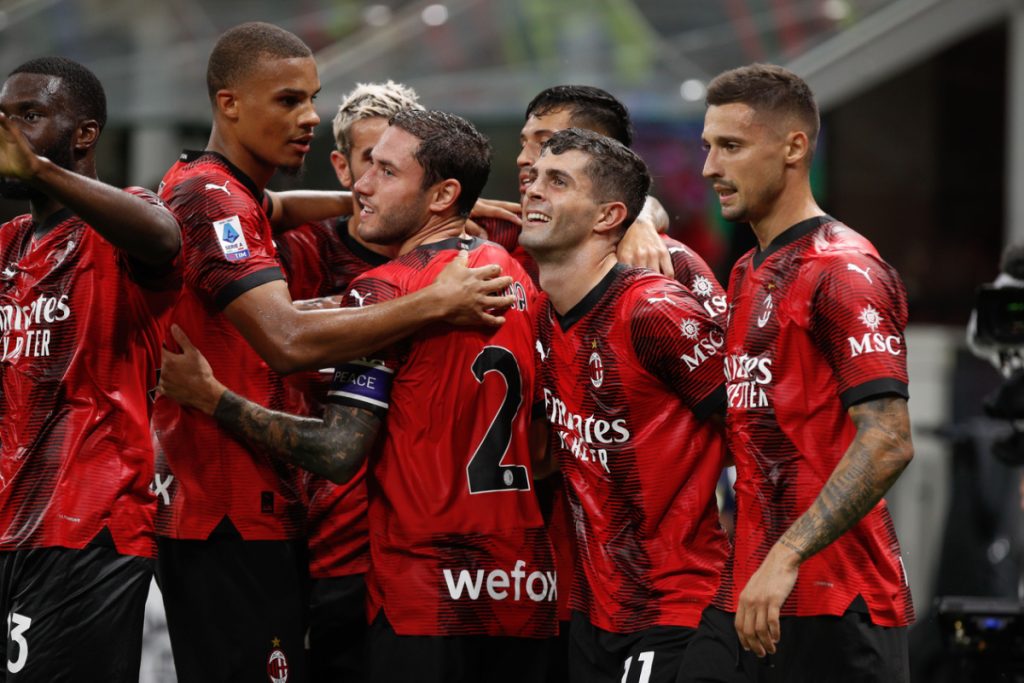 Moreno acknowledged the signing of the American trio, stating: "First and foremost, we signed these players because they are fantastic players. However, it is undeniable that having them in our squad is helping us reach the US audience in a more impactful way and is having a strong impact on the business side.
"Just to give some examples, in terms of ticket sales, this season we are seeing more single game tickets and hospitality tickets being sold to Americans than ever before.
"In terms of merch sales, 74% of all CP11 jerseys are currently being sold in the US. Even more impressively, total units (all ACM merch) sold in the US increased by 110% with respect to last year, which is a huge increase year on year. Finally, since July 2023, the percentage of shirts sold in the US amounts to 20% of the total."
Another key theme addressed was AC Milan's recognition of the versatility of its brand, extending beyond the football realm into music, fashion, and entertainment.
Moreno shared insights into how the club is strategically positioning itself to be not only a football powerhouse across the US and the globe, but also a credible presence in diverse cultural and lifestyle spheres.
She added: "We do believe that to be able to really resonate with casual fans, we need to be able to resonate beyond the pitch. We play in music, gaming, fashion and other areas to connect differently and start to form relationships with new audiences and reinforce existing ones.
"We are very fortunate to be based in Milan, the capital of fashion. We try to leverage brand equity from brands in the fashion space to be able to resonate with the US audience and we have several examples of that in what we have done with KOCHE and Off-White over the past couple of years.
"We want to be able to leverage those types of partnerships to be credible in those spaces. There's a lot more coming soon in that space, with our Fourth Kit this season being a collaboration with our partner Puma and a major US designer, so I would encourage everyone to stay tuned."
The Soccerex Miami panel offered a platform to discuss the intersection of sports and culture, showcasing AC Milan's vision for brand evolution and engagement in the American market.