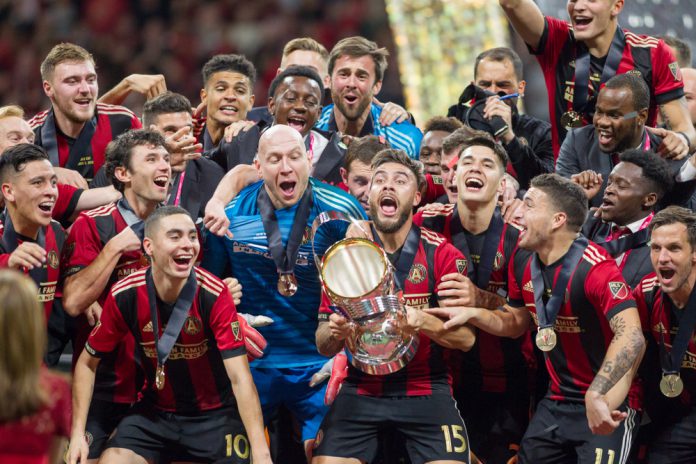 Major League Soccer is looking to deepen social engagement with the expansion of its Twitter partnership, which will now run through the end of the 2022 season.
As part of the package, MLS Twitter users will be able to enjoy a variety of live and on-demand content each week, including every goal of the MLS season. This will enable fans to follow their favourite teams and players through MLS's Twitter handles, @MLS and @FutbolMLS.
Chris Schlosser, SVP Media, MLS commented in a statement: "Our collaboration with Twitter has proven to be a highly effective vehicle to connecting with fans in innovative ways and bringing our teams and world-class athletes to new audiences. We are excited to extend our partnership and look forward to working with Twitter and Univision on creative executions during live matches and at our big events."
The partnership will also continue to explore alternative methods of increasing fan engagement, building on last campaign's use of the digital SLR camera, which the league installed last season for a Heineken Rivalry Week match between the LA Galaxy and LAFC. Every time a fan tweeted using hashtag #LALookIn, the camera snapped a photo and it was sent back to the fan. This activation marked the first time in history when a Twitter-powered camera was used during any major professional sporting event in the world.
TJ Adeshola, head of US sports partnerships at Twitter added: "We couldn't be more excited to extend our partnership with one of the fastest growing sports properties in the world, Major League Soccer. The live match day action along with commentary and highlights have been a huge success — now, the community will get to watch live programming around the Playoffs and the MLS Cup on Twitter."
The deal acts as a continuation of Twitter's presence in US sports, with the social media platform also recently announcing a multi-year partnership extension with the NFL.
The extension will deliver a host of new live programming, original sponsored content and more highlights to Twitter's highly engaged audience just in time for the NFL's 100th season.
Since announcing the first partnership agreement in 2013, the NFL has developed live programming and distributed on-demand content that captures Twitter's unique features and appeals to its highly engaged audience.
The new deal will feature new live programming built around some of the NFL's biggest events, more game highlights each week for fans, and unique sponsored content opportunities for brands.
"We're excited to renew our partnership with Twitter," said Blake Stuchin, NFL Vice President of Digital Media Business Development. "Millions of people use Twitter every day to follow their favourite teams and players and participate in conversations about the NFL. We expect these new live shows to be among the most popular programs on Twitter, while serving to drive awareness and tune-in of our biggest tentpole events of the year."​
"We couldn't be more excited to celebrate the NFL's 100th season by kicking off a new multiyear collaboration that will include innovative ways to serve fans and our brand partners," said TJ Adeshola, Head of US Sports Partnerships at Twitter. "Football fans around the world will now be able to engage with more NFL premium content on Twitter, which will inspire even more conversation year-round about the league."