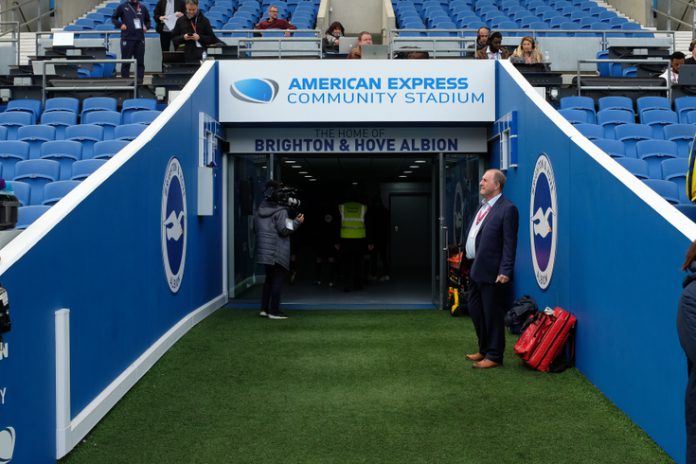 Brighton & Hove Albion chief executive and deputy chairman Paul Barber has expressed his doubts over the Premier League's proposed 'neutral venue' plans as it could affect the 'integrity' of the competition.
The Premier League's 'project restart' plans continue to develop with each passing day as the competition looks to conclude its campaign, with one proposed idea being that 10 neutral venues will be used for the remainder of the season.

However, Barber has spoken out on the Premier League reports stating that it could provide clubs with unfair advantages which could affect which teams will be relegated.
He stated: "We do of course understand that in the very difficult circumstances we are facing that every option must be considered – but that should only be when safe to do so for all concerned and, if and when we reach that point, we are not in favour of playing our remaining matches at neutral venues. 
"Clearly, we must all be prepared to accept some compromises, and we fully appreciate why playing behind closed doors is very likely to be a necessary compromise to play our remaining games while continuing to fully support the government's efforts to contain the spread of coronavirus. But at this critical point in the season playing matches in neutral venues has, in our view, potential to have a material effect on the integrity of the competition.
"We must accept there may also be some benefit from playing our remaining four away matches at neutral venues but the fixture list simply isn't equally balanced at this stage of the season, and we didn't play our first 29 matches of the season in this way. So, in our opinion one thing doesn't cancel out the other."
Brighton's remaining fixtures sees the club face Liverpool, Arsenal, Manchester United and Manchester City at home, with Barber claiming that preventing the club to play those matches at the American Express Community Stadium puts the club at a disadvantage.

Home-side advantage is of significant importance to Brighton who are currently 15th in the league, two points off the relegation zone. 
Barber has also revealed that Brighton have not been asked if the Amex Stadium can be used and that no discussions have been put in place to use the ground as part of the Premier League's reported plans. 
The club's chief executive nevertheless has reaffirmed Brighton's ambition to complete the season as long as it is safe to do so for all parties involved.

He concluded: "We remain entirely focused on completing the season if we can, provided the prevailing conditions are safe for our players and staff.
"Our income and with it many jobs and livelihoods in our industry at all levels of the game relies on us finding a way to re-start matches at the earliest possible opportunity, but safety and fairness for all concerned are paramount."