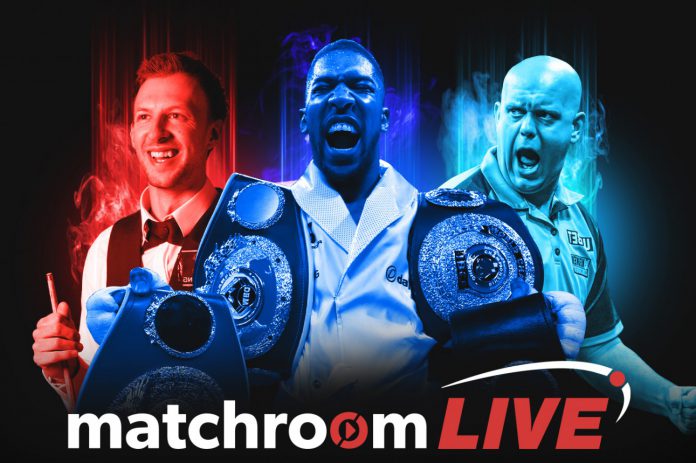 Matchroom Sport has officially launched its over-the-top (OTT) platform Matchroom Live featuring archive footage 'from Boxing to Darts to Snooker' for free.

One feature already announced by Matchroom Live is the 'Anthony Joshua – Road To World Champion' video catalogue, providing fans with the British boxer's journey to the summit of the heavyweight division.
The platform, built and operated by sports streaming and video technology firm StreamAMG, will provide Matchroom fans with a wide portfolio of live and on-demand events. Along with the free archive footage, customers will be able to live-stream ongoing events through a subscription package and pay-per-view options in territories without current broadcast rights.
This provides fans with potential access to the World Darts Championship and Premier League Darts, pool's Mosconi Cup and World Pool Championship, plus the World Snooker Championship among Matchroom's other live events.
Matchroom has also announced that it will continue to add fresh archive footage to its platform to ensure that 'every sports fan has countless hours of sport to watch wherever they are in the world'.
In order to ensure Matchroom's debut OTT platform remains flexible, future-proof and capable of withstanding added content, StreamAMG has employed the StreamPlay end-to-end solution, which combines a suite of video technology to handle every aspect of sports streaming. 
SteamPlay is built on a fast and light architecture powered by its CloudMatrix content population system, providing fans with best-in-class viewing experience across a variety of devices.
Matchroom Live will also allow fans to watch up to four live events at once with the unique 'QuadPlay' view. Moreover, the service can be accessed on a dedicated video platform, with the ability to cast to virtually any device whether that be a console, Smart TV, or connected device. The service will also allow fans to watch up to four live events at once with the unique 'QuadPlay' view.

Insider Insight: The launch of Matchroom Live will provide fans with countless archive footage that will undoubtedly quench their thirst for boxing, darts and snooker content. Providing the archive footage for free is also a smart business move especially during the Covid-19 pandemic as it retains fan engagement for all of Matchroom's associated competitions and athletes.