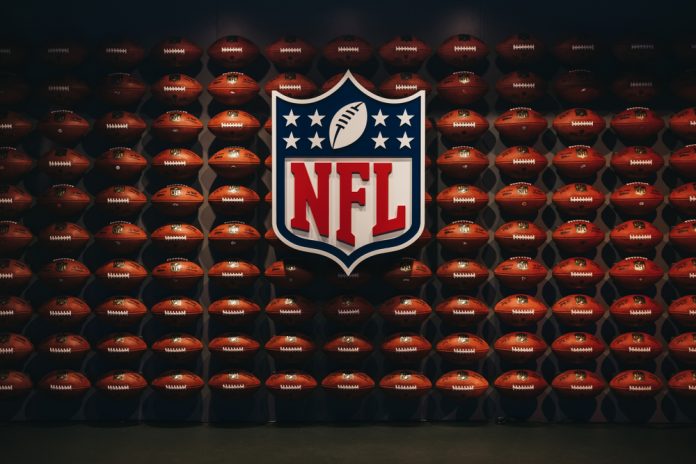 The National Football League Players Association (NFLPA) has linked up with Monkey Knife Fight, a fantasy sports gaming platform, and sports company OneTeam Partners in a first-of-its-kind multi-partnership deal.
The agreement allows NFL players to profit from and become stakeholders in the unique firm which has never been seen before, providing a "blueprint" for future deals.
"Fantasy sports was built on the backs of players and there are several companies in fantasy sports that are worth $10 to $15 billion," explained Monkey Knife Fight Founder and CEO, Bill Asher, speaking at the exclusive press conference.
"How much of that ended up in the players' pockets? Through this partnership the players will now be able to reap the rewards that come with equity ownership in Monkey Knife Fight and I could not be more thrilled to be a part of this.
"Monkey Knife Fight has always distinguished itself from other gaming platforms. Our product was designed for the average sports fan who wants to make predictions about their favourite players and how they perform on a given day so this is the perfect product for this new relationship."
OneTeam, which was formed in 2019 by the NFLPA, the MLA Players Association and RedBird Capital, helps professional athletes to maximise their brand and rights, including their name and image, working with the likes of Deshaun Watson and Patrick Peterson.
Quarterback of the Houston Texans, Watson, admitted that the players have been waiting for the opportunity to arise: "I think it's very good for the players to have some type of ownership and also be connected with the people controlling it.
"We can grow not just as a business but also the fan base, from a player perspective. We can have that type of ownership and connection in the partnership where we can lock arms and sit together."
The joint venture allows the NFLPA to become a strategic partner in Monkey Knife Fight; a company that boasts the third largest Daily Fantasy Sports (DFS) ranking.
Arizona Cardinals' Peterson, also present at the virtual unveiling, echoed: "I'm really looking forward to helping drive the future in the fantasy sports industry. It's an awesome deal to be a part of something so fresh and so new from the ground up. I want to thank the NFLPA for getting behind it and doing their due diligence."
The dynamic deal includes a long-term licensing agreement and a joint marketing commitment between the three parties involved.
DeMaurice Smith, NFLPA Executive Director and OneTeam Board Member, highlighted the importance of adapting with the industry as it develops: "This is the right evolution for our union and this is where our players should be, in the forefront of fan engagement but also stakeholders in the business that is really dependent on what they do on the field.
And OneTeam Partners CEO, Ahmad Nassar, urged fans and players to "stay tuned" as there is "plenty more to come" from the trio.
"This is the perfect timing for this partnership," he added. "Professional athletes have historically been underleveraged by DFS companies despite athletes being the predicate for these games' existence.
"In Monkey Knife Fight, we've found a partner that is unique in what it offers to fans and also understands the immense influence and value that athletes can deliver, especially as a challenger brand competing with industry incumbents."
Insider Insight: This deal marks a significant breakthrough for professional athletes and sportspeople who will now be able to benefit from and have voice in ventures which utilise their name and brand.