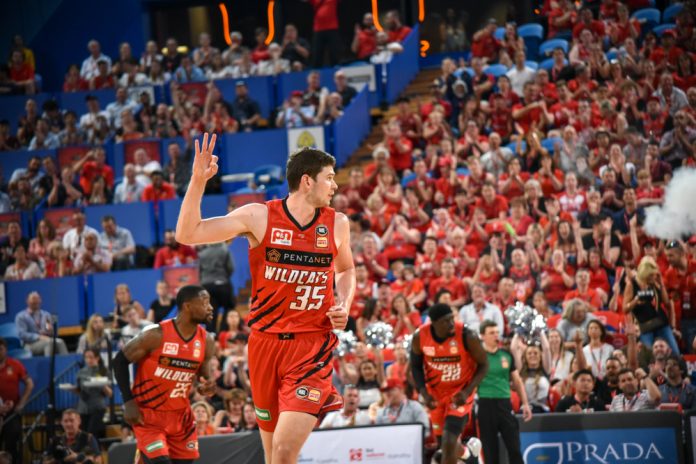 The Australian Basketball Players' Association (ABPA) has expressed player safety concerns to the National Basketball League (NBL) over on-court sponsor decals.
The ABPA first raised the issue in January when players continually slipped on sponsor stickers in an NBL clash between the Adelaide 36ers and New Zealand Breakers. The representative association has argued that decals on the court pose an injury risk to players.
The NBL and ABPA met to discuss the issue and have subsequently released statements reiterating that the NBL will address the issue of venue and court maintenance.
NBL Owner and Executive Chairman, Larry Kestelman, commented: "On-court advertising provides an essential source of revenue for the league and clubs to fund NBL operations including items such as referee costs and the production of our broadcast, which in turn is essential to the revenue generating capacity of our clubs.
"The NBL uses multi-purpose courts, which are owned by multi-purpose venues, and as such painted courts are simply not an option at this stage. 
"The economics of virtual signage have been closely explored but are not viable. However, we will continue to look at all options and work closely with all venues and clubs to ensure best practice for player safety is protected."
Last year, the NBL renewed its naming rights partnership with fast food chain Hungry Jack's, making a commitment to growing the sport. Other central league sponsors that have an on-court presence include Chemist Warehouse, MG, Sportsbet, Kmart, Aldi Mobile, La Trobe Financial and Bunnings Trade.
"It is a longstanding issue with our sport, not just the NBL," said NBL Commissioner, Jeremy Loeliger. "Any moisture on polished wooden floors can contribute to unnecessary slippages and we are working closely with the clubs to ensure that moisture on the court is addressed quickly and rigorously during the course of any game and that courts are kept as dry as possible."
A number of current and former NBL players have voiced their concerns on social media. American basketball player and former Adelaide and Sydney Kings star, Jerome Randle, took to Twitter, saying that on-court decals are 'dangerous' and can cause serious knee injuries.
He added that the league should 'protect the players' and find an alternative advertising method.
Digital projection of on-court signage – which is in use in other basketball leagues across the globe – has been identified as a possible solution to the issue. 
Loeliger continued: "In relation to advertising decals, we became aware of an abnormally high number of slippages in the opening game of the season in Adelaide and immediately took steps to identify and address the issue with venue management. Independent analysis found the decals we use not only meet the tolerances required by FIBA and international standards, but that they sit very close to the 'ideal' standard.
"Nevertheless, the ABPA has raised further concerns with us and we are working with them to address this on top of the work undertaken in the off-season to procure the market leading product in this regard."