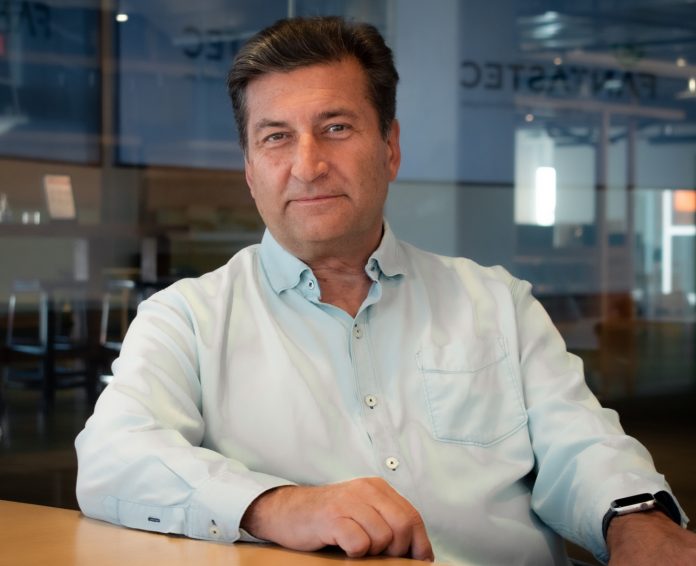 Speaking to Insider Sport, Steve Madincea, Founding Director of Fantastec and Fantastec SWAP, discussed his company's approach to fan engagement, the increase of socially conscious campaigns by sporting clubs and figures and the rise in the utilisation of cryptocurrency.
Insider Sport – Can you tell us more about Fantastec and your role in the sporting sector?
Steve Madincea – Fantastec SWAP app is a blockchain-based digital collectibles platform that is revolutionising the way fans engage with digital content produced by clubs. Fantastec SWAP works with sports teams, brands, and athletes to engage with their fans through the use of emerging technologies including blockchain, AR and VR.
We work with top-tier clubs such as Real Madrid, Borussia Dortmund, and Arsenal, to use their rights-free assets to create desirable digital collectibles fans can collect, curate and swap via the app.
Our technology means fans living on the other side of the world to their favourite club are treated the same as fans close to the stadium, so they can all collect and curate exclusive memorable team content.
As for our role, I believe we're creating our own digital fan engagement space in the sporting industry. This is away from the betting and fantasy gambling sectors. We have defined our own area for digital collectibles, offering a whole new way for fans to engage with their favourite teams and players.
IS – How important do you feel free to play games could be in terms of boosting fan engagement for sports clubs and organisations?
SM – Sports clubs have been hard hit – as has every industry – by the pandemic, and history shows those who do not adapt to disruption will fail.
The loss of live fans at sporting events has impacted many sports sectors significantly – not only by cutting revenue, but also by affecting the way fans engage with their favourite sports and benefit from a sense of community and shared enjoyment of a spectacle. Lucrative TV agreements are also under threat, meaning that pillar of revenue is failing.
There are also fewer sponsors with less money, so high value sponsorship agreements are also thin on the ground.
It will therefore be of the utmost importance teams maintain high levels of engagement with their fans, both local and global, as we emerge from the pandemic.
However, teams are also reducing their commercial personnel, meaning fan engagement strategies must include platforms like SWAP, where fans can be provided with highly desirable ways to connect with their teams, while teams can at the same time monetise those fans.
Fans of the beautiful game need new ways to engage with the sport and clubs and companies like Fantastec have a responsibility to ensure that those channels for engagement are affordable.
We're always looking for new ways to ensure that SWAP is a fully inclusive app, and this means also being understanding of fans' and clubs' finances.
IS – In terms of fan engagement, what has been learnt following the COVID-19 pandemic?
SM – For many clubs, COVID has been a trial by fire trying to keep fans engaged. Clubs have millions of social media followers, but people are getting tired of just liking a social post or retweeting they crave more engagement.
The fans of today want more personalised interactions with their team and favourite players, so for many teams without contemporary digital strategies, the loss of match-day fan engagement was difficult to adapt to.
Whilst excitement surrounds the ending of lockdown and the returns of fans to stadiums, it may be a few years until clubs see the sort of ticket sales and attendances as they were pre-COVID.
With that in mind, clubs will have to embrace intuitive technology that plays into a greater fan-retention strategy if they want to stay relevant to their fans and to create new streams of revenue.
Many clubs have discovered there are a number of tech and tech-enabled products that can help them with in-stadia experience when this returns, and which can help them adapt to a more digital future.
IS – Many football clubs have been utilising cryptocurrency 'Fan Tokens' for fan engagement purposes. Do you believe this could be a positive step for the sport?
SM – There is no doubt that such crypto 'fan tokens' provide a way to monetise fan engagement, but you have to ask at what cost to the fan and the team!
Cryptocurrencies are notoriously unstable – we've seen stratospheric and unregulated rises – for example, when Bitcoin increased in value by more than 900%, which have been followed by stark drops. There remains a reluctance from governing bodies to legitimise the industry, as well as a lack of trust from retailers and businesses.
With these new 'Fan Tokens', we need to consider whether they are worthwhile to the fan. Modern fans are savvy when they're being sold a dud that only benefits one side of the club/fan relationship.
With this in mind, clubs that do engage with these new tokens must be willing to offer enough to make it worthwhile for the fan to engage or risk losing fans for life!
While cryptocurrency is the most widely discussed application of blockchain technology, the great thing about blockchain is it allows things to be protected and secure.
Fantastec SWAP pegs its digital collectibles to the blockchain so that they are a unique, irrefutable record of an asset that can be fully trusted, since the blockchain can prove its scarcity providing a new layer of protection.
IS – Multiple sports clubs have embraced socially conscious programmes throughout the pandemic, such as Plasma FC. Is it now crucial that clubs increase how socially conscious they are?
SM – Multiple sports clubs have embraced socially conscious programmes throughout the pandemic, such as Plasma FC. Is it now crucial that clubs increase how socially conscious they are?
These efforts made by clubs resonate deeply with their fans. No longer can clubs use the excuse they cannot comment on societal issues. Football is making positive progress. It will be the clubs that fail to heed this change that end up losing their fans and with it, their revenue.
Going forward the only essential for clubs in regard to making social change, is that it does make an impact and isn't just another series of empty promises. Fans want to see actionable differences, whether that's putting the money up to ensure women's and grassroots sports are getting closer to level with the men's game, strengthening their stances in regard to anti-racism and prejudice within the sport or making CO2 pledges in the years to come.
IS – Can you tell us what you believe it means for a football club to be completely socially conscious?
SM – Personally, I think it means taking responsibility and ownership of the community power a club has and continually inspire fans to do the right things.
Whether that's educating them about ways to reduce carbon waste, ensuring an inclusive environment for both women and members of the LGBQT+ community or working with local impact groups to stamp out racism within the game. There is a lot to accomplish but clubs with the right mindset can do it.
Could socially conscious initiatives and fan engagement programmes be intertwined? They have to be! Whenever a product or TV show or anything gets made these days, businesses go through hundreds of focus groups to ensure its hitting its mark. Well for a club, you know who your  focus group is- the fans!
We've seen some fantastic examples of initiatives and fan engagement in action, probably none better than Marcus Rashford's work. He was incredibly inspiring ensuring children were provided school meals. The support he's received from the football supporter community, not just Manchester United fans, has been phenomenal.
Another great example is Everton and Liverpool's recent work during their derby helping food banks in the locality. The game is quickly becoming a lot more progressive and engaging with social issues and to not intertwine fan engagement into that, would be tone deaf to the people these initiatives aim to help.
IS – As English football clubs move away from betting related partnerships, what scope is there for non-gambling related apps to enhance fan engagement?
SM – The growing rumours that on-shirt gambling sponsorship could be banned following this year's review pose a great opportunity for clubs.
I suspect many will look to stay connected to the gambling operations via things like Fantasy gambling, a light version of betting. But others may take the opportunity to distance  themselves from the gambling industry altogether and replace it with something more fitting and positive for the entire fan community. We're already starting to see more and more clubs steering away from betting-related sponsorships.
New ideas will emerge like the one developed by Forest Green. They recently developed a sponsorship by creating their latest Forest Greens kit using only coffee waste!
This is another example demonstrating clubs will never lack opportunities for sponsorships. But with the growing pressure from the gambling review on shirt sponsorships, clubs would be smart to adjust their sponsorship strategies. No doubt they should consider having a more positive impact on both the fans and a club's local area and businesses.