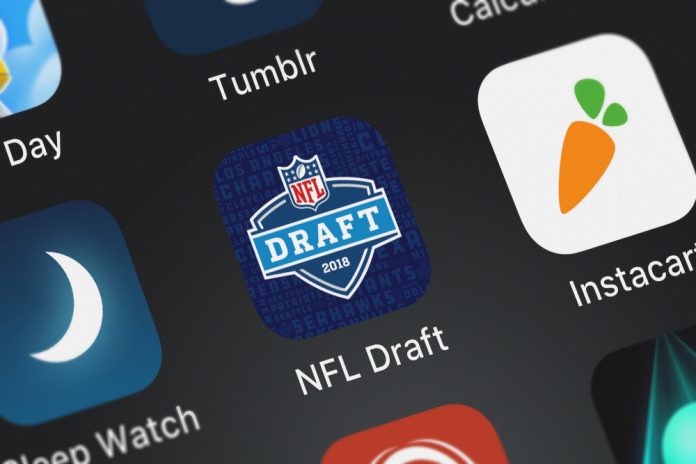 The first night of the 2021 National Football League (NFL) Draft attracted its second highest-ever domestic audience, averaging 12.6 million viewers, according to Nielsen statistics.
Over the course of the three-day Draft, between 29 April and 1 May, ABC, ESPN, ESPN Deportes and the NFL Network pulled in an average of 6.1 million viewers across the television and streaming channels, with fans once again able to attend live.
The figure, which falls just shy of the 6.2 million that tuned in during 2019 and down from 2020's 8.3 million, marks the third most-watched Draft on record, with last year's edition still holding the accolade as the most-watched version of the Draft.
However, the first round of the event was just behind the 15.3 million who watched the first night of the Draft last year, which was boosted by the postponement of the majority of sporting events.
Of the three linear broadcasters, ESPN enjoyed the largest proportion of the audience – although its 6.5 million average audience dipped from the 7.9 million viewers last year, the figure was up from the 4.9 million in 2021.
In addition, ABC's coverage pulled in 4.2 million viewers, whilst the NFL Network posted a viewership of 1.9 million, representing a rise from the 1.7 million the pay-television channel averaged over the course of the previous two years.
Digitally, viewership marked a 54% increase from 2019, with the first round recording an average per minute audience of 598,000 across ESPN, ESPN Deportes and the ABC platforms.
In total, the 2021 Draft viewership represents a 11% increase from 2019 and bests the 12.4 million that tuned in during 2014 when quarterback Johnny Manziel stole the headlines by forgoing his junior season and dropping to the Cleveland Browns as Mike Pettine's 22nd overall pick.
Boosting fan engagement during the Draft, the NFL announced a partnership with invitation-only social media application Clubhouse last month, which saw the two produce exclusive programming for the player selection meeting.
More recently, the NFL confirmed it would accelerate Amazon's domestic media rights contract to allow the retail and streaming giant to pick up the Thursday Night Football package from 2022 onwards, instead of the planned year of 2023.